2010 Roundup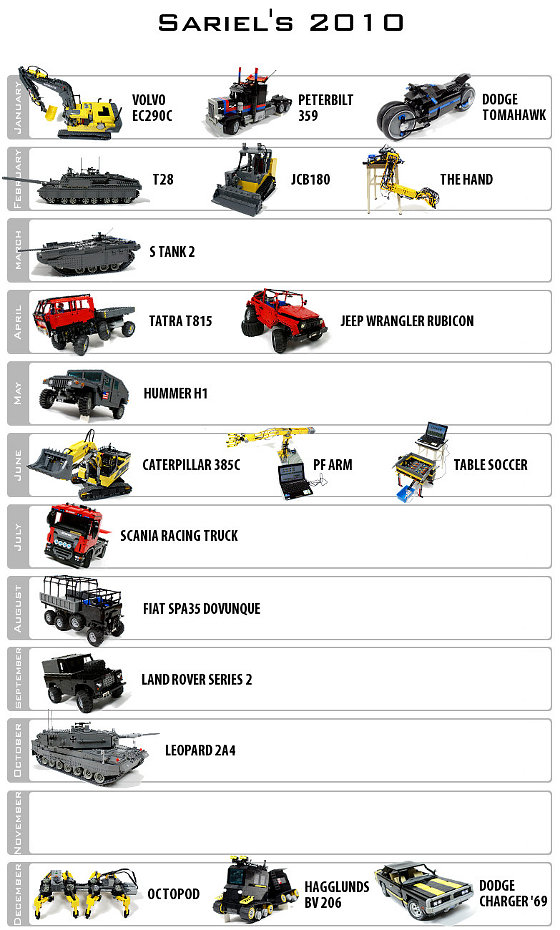 Roundup of another year with a pile of the Lego bricks.  
The 2010 seemed like a short year that left little time for building. It has been, however, full of exciting events. The first event has taken place already on January, when me and my fellow LUGPol member, have been invited for a short live interview on TV. Later, on March, I have built a 1:1 model of a human arm, thinking of it like of a 'relaxation build', but it unexpectedly gathered an amazing amount of attention from all over the world (resulting in 15 publications at various websites, which is more than any other of my constructions ever had). Just a few days later I have finished a new version of my S Tank model from two years earlier. The original model has been very successful, but I have seen a lot of things that could be improved in it, so I did improve them.
April was when I found some time for work on a helpful tool – a new version of my earlier gear ratio calculator, now greatly improved, easier to use, and equipped with a Gear Coupler feature. Shortly after I have finished Jeep Wrangler Rubicon model, which was built on a very short notice for a Truck Trial race, yet proved more successful than any of my earlier attempts at Truck Trial vehicles. With a kind help of some fellow Lego passionates, I was able to publish instruction for it, thus letting other Truck Trial enthusiast build something already race-proven. My constructions have been also featured in the popular science magazine called Focus, more than once.
On June, the success of my human arm model was nearly repeated by another 'relaxative' build – the Table Soccer, fully automated with Lego WeDo components. It managed to gather attention of a number of football fans, and was yet another construction acclaimed by people who aren't really into Lego bricks.
On July, I have finished the Scania Racing Truck model, which I consider one of my best-looking constructions so far. I had great time driving it around, and the video of it, featuring some slow-motion footage, has caught eye of many a viewer.
On October, another helpful tool was released – the Model Scaler tool. Despite some level of complexity, it was welcomed well – and, to my pleasant surprise, especially by Lego Trains builders.
Finally, on December I have finally managed to add two new categories to my website: walkers and supercars. I have only made first attempts at these new areas, but both look promising and show potential for future. Also on December I have been video-interviewed by a Polish VideoGaduła programme – the video should be released some time on January, with English subtitles embedded. I have also gotten an offer I never dreamt about – to write a book on Lego for a major US-based publisher.
Looking at all the constructions completed this year, I see a nice balance between large, complex ones and small ones built mainly for fun. It seems like the proper way to go, event if it causes delays to some of my long-planned projects – after all, building with Lego pieces is all about fun. I'm also glad to see the number of constructions increase from eighteen in 2009 to twenty this year. I still have the feeling I could do better though, and it seems that I have wasted a lot of time working on poorly designed Truck Trial vehicles. I have built five of these this year, and yet the most successful ones were the simplest ones. That should give me something to think about, especially since building Truck Trial vehicles has to be done on specific dates, and thus may interrupt other projects badly. So far, I have only two Truck Trial vehicles planned for 2011: the BMR2 6×6 armoured personnel carrier and a new model of the classic Hummer, and I will be watching the performance of these closely. 2010 has clearly shown that my engagement in Truck Trial races is pretty much wasted effort – all my vehicles were easily beaten.
The twenty constructions  this year are:
As for the plans for 2011, it will certainly start with a very serious construction: the Tow Truck 2, which may pack as many as 13 to 14 motors and probably won't be complete until February. It's going to be a model with loads of functions and loads of details too (including, for instance, 40 Lego LEDs and 12 Lego light bulbs), and will be closely based on this truck:
I am also hoping to finally find some time for some of my 'experimental' projects, as well as for adding two more categories: aircraft (including models of planes, but not actually flying ones) and watercraft (with floating boats and vessels of various kind). I would like to have at least two new constructions in walkers and supercars categories too. Finally, I'm looking forward to writing and publishing a book that will hopefully take little time to write and will find a lot of satisfied buyers. Also, let's not forget that the Lego company certainly has exciting new sets for us, probably with new parts that will open some new possibilities. I already have the new small linear actuators at hand, and I'm more than eager to put these inside the aforementioned Tow Truck.
Have a great New Year and thank your for your kind interest, your supporting comments and your insightful remarks that allow me to know more and build better.
PS. I forgot to mention that I now have an option to upload videos of unlimited length to YouTube. Which means that I finally won't be forced to cut the Truck Trial videos short in 2011.