Hagglunds BV 206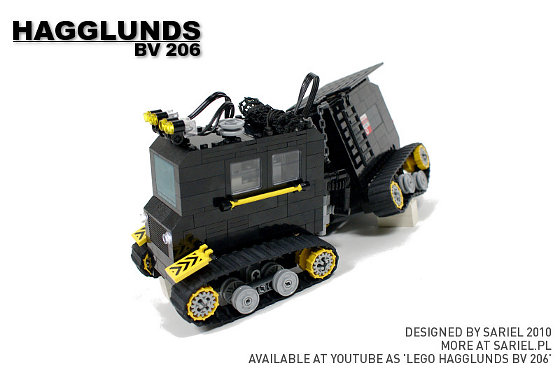 Small, simple model built for playing in the snow. Features simple suspension, remote-controlled drive & steering, and lights.  
Datasheet:
Completion date: 17/12/2010
Power: electric (Power Functions)
Dimensions: length 40 studs / width 12 studs / height 16 studs
Weight: 0.787 kg
Suspension: pendular bogies
Propulsion: 2 x PF Medium motor geared 2:1
Top speed: 0.8 kmph
Motors: 2 x PF Medium, 1 x 71427
This is a very simple articulated tracked vehicle, loosely modelled after the Swedish Hagglunds BV 206. My inspiration came obviously from Peer "mahjqa" Kreuger and his Stilzkin Igniz offroad vehicle. Since Peer's model was really hard to top technically or aesthetically, I decided to go for simplicity and small size, a size fit for Lego full-rubber tracks I never had a chance to use before.
The vehicle is composed of two parts kept together by a complex articulated joint. The joint has the ability to change the horizontal angle between the two parts, which is controlled by a 71427 motor geared down substantially. It also has ability to rotate around transverse and longitudinal axis, freely, with the only constraint being the space between two parts of the vehicle. Initially, I wanted to control its rotating around transverse axis with another motor, thus gaining the ability to elevate or lower both ends of the vehicle, but it proved to perform very well without it.
Both parts have identical chassis, with two separate drive motors – PF Medium motors geared down 2:1. I was going to use a single drive motor located in one part of the vehicle and transfer the drive to another by universal joints, but that would require making the central joint much more complex or restrict its movement, so I used two separate motors instead. This solution, coupled with small weight of the model and the excellent traction of the full-rubber tracks, results in outstanding climbing abilities, shown on the video below.
The bodies of the both parts of the vehicle, despite being similar in size, have entirely different internals. The first part houses a 71427 motor with its gearing, and a lot of wires due to three parts of Lego LEDs used. The second part is literally built around the rechargeable battery and a single IR receiver, with the addition of a single pair of Lego LEDs. There are three wires connecting both parts.
The model was very fun to play with, and performed quite well in the snow, even though the steering system was struggling hard to work  with tracks buried in snow. Also, despite its good ground clearance, the model would pile up some snow in front of it while driving, until the point at which the pile was large enough to stop it. Still, its performance against obstacles was extraordinary, and its climbing abilities astonishing given its size. Two disadvantages degrading its performance was the tall silhouette, resulting in the centre of gravity located so high that the vehicle had a strong tendency to tip over, and the small weight which made it difficult to control, as it would change its direction on obstacles sometimes.
Photos:
Video: