1969 Dodge Charger R/T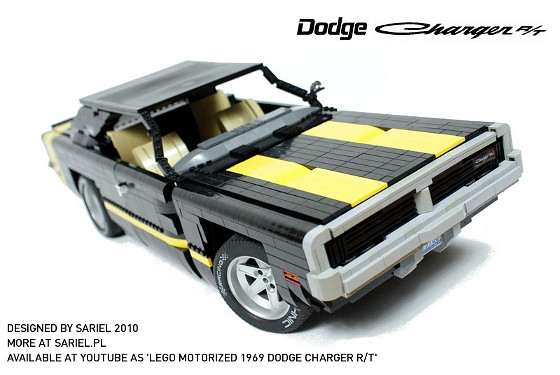 My first supercar-class model. Features full suspension, remote drive & steering, remotely elevated rear axle, remotely opened doors, lights and custom stickers.  
Datasheet:
Completion date: 27/12/2010
Power: electric (Power Functions)
Dimensions: length 75 studs / width 26 studs / height 20 studs
Weight: 3.507 kg
Suspension: front – double wishbone / rear – live axle
Propulsion: 2 x PF XL motor geared 2.33:1
Top speed: 0.91 kmph
Motors: 3 x PF Medium, 2 x PF XL, 1 x 71427, 1 x micromotor
I have been making attempts at my first supercar for quite a while now. First I started with Lamborghini Reventon model, then I've ran into some problems building a supercar that large and complex, so I decided to put it on hold and build something simplier, just to gain experience. 'Something simplier', however, turned out to be a strenuous piece of work, largely due to my decision to use studfull body. I have chosen to model a car with relatively simple silhouette – the classic 1969 Dodge Charger R/T, a fine example of the muscle cars era.
I should start by saying that I'm not fully happy with how the model turned out. The original Charger's silhouette is shaped by subtle curves, which I have simplified to the point of building a box on wheels. The model is very heavy and slow, and it was a great lesson of the tricky things about the supercar models.
It turns out that motorized supercars are quite a challenge. Unlike trucks or military vehicles, they have little internal space to use for mechanics and even less space for a bearing structure. The problem is that the cabin's interior is usually taken and so is the engine bay, which leaves only the car's floor to fit the frame in. The Charger is built around a studless frame, which, reinforced as it is, can't possibly hold it together alone. Extra stiffness is provided by the body of the model, which is massive and prevents it from bending. It takes a special way of holding to carry the model without damaging it.
Aesthetically, the model has a number of drawbacks. As mentioned earlier, it lacks subtle curves which make the original car distinctive, and it also lacks the central ridge on the bonnet. The cavities in the doors are modelled very roughly and the front grille is recessed less than it should be. Additionally, the wheels are no less than three times wider than the wheels of the original Dodge Charger.
Technically, aside from its low speed, the model has a number of well working features. The most noticeable one is probably the headlights rotation mechanism, driven by a single micromotor, which tilts the headlights modules to make them open up or close, just like in the original car. When the headlights are fully opened, the micromotor stalls. Due to its silent operation and minuscule power demand, stalling it is less of a trouble than including some sort of a circuit breaker. The rear lights shine through a layer of 2×1 thin trans-red plates, which creates an interesting effect.


The doors are being opened by a motor located in the floor between the front seats (hence the lack of a gearbox). The motor uses two separate worm gears (without clutches, as they proved to yield too quickly) to open both doors simultaneously. Rather than integrating the doors into the studless frame, I decided to make them part of the studfull body, with standard hinges, and open them by means of small horizontal levers. Due to use of the worm gears, it is not possible to handle the doors by hand.
The rear suspension, which is based on a live axle with 4 links,  just like the one developed here, can be elevated. This is a feature present in some sport cars to provide a more favourable weight distribution when needed. The elevation is done by moving the base of the rear suspension's shock absorbers by a single linear actuator driven by a PF Medium motor. The whole mechanism takes a lot of space, including the space where the trunk should be, and the single actuator is clearly struggling against model's weight.
The building process, as mentioned before, turned out to be very strenuous and highly discouraging. If I've been hesitating between building studless and studfull supercars before, this experience has certainly convinced me to prefer studless. Therefore my next supercars will be most likely built in the way of modern Lego supercars, which includes a studless lightweight body built around a studfull frame – an exact opposite of how this model was built. I hope it will also make building them more enjoyable.
Work in progress photos:
Photos:
Video: