Aliens Took My Cow!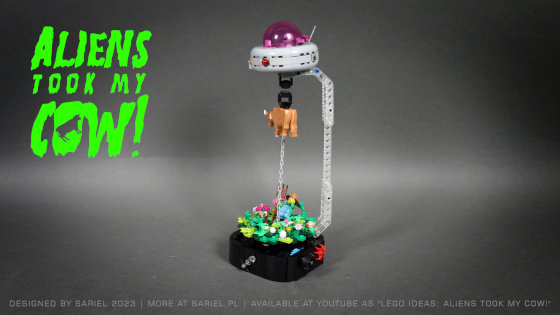 Second take on my LEGO Ideas project featuring a magnetically suspended cow.
Datasheet:
Completion date: 08/08/2023
Power: none
Remote control: none
Dimensions: length 13s / width 13s / height 37s
2 years ago I have submitted a very simple LEGO Ideas project called a UFO Cow Abduction. It has expired with 3,271 votes out of 10,000 required, and with many supporters commenting that while they liked the idea, they found the execution somewhat lacking. I felt they were right and I've been meaning to have another, more polished go at it for a while, but I only got around to doing it after coming up with an idea of a rotating base for the UFO.
Just like the 2021 version, the project centers around a cow being abducted by UFO, with the cow tethered on a chain and held up in the air using LEGO magnets – one attached to the cow, the other attached to the UFO. This time the base is larger, the UFO is much more detailed and smoother, and it's supported using trans-clear liftarms that can rotate around the base as you spin the knob on the base's side, effectively making the UFO rotate above the cow.
This project can be supported here: https://ideas.lego.com/projects/b57c9118-80a6-4fc4-8bea-cc5efd7e7c75
Photos:
Video: