Octopod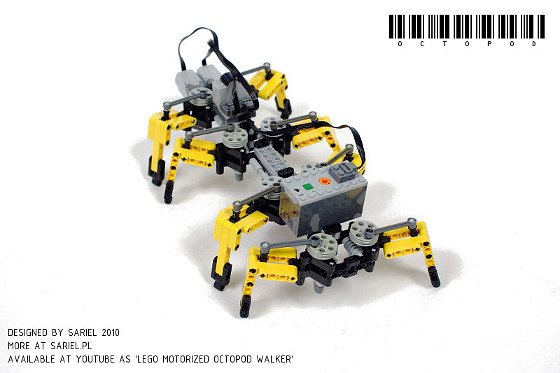 My first walking vehicle. Features 8 legs driven by two separate motors, with ability to steer and turn in place.  
Datasheet:
Completion date: 05/12/2010
Power: electric (Power Functions)
Dimensions: length 41 studs / width 28 studs (with legs spread) / height 14 studs
Weight: 0.421 kg
Suspension: none
Propulsion: 2 x PF Medium motor geared 8:1
Top speed: 0.22 kmph
Motors: 2 x PF Medium
I had an interest in walkers for quite a while, viewing them as a new, challenging and unusual type of vehicles. The work on this particular walker was completed over a single evening, and started by an attempt to model the range of movements of a spider's leg. It took me several hours and many leg versions to get it right, but it was fairly easy from then on.
This is my first walker ever and I had no previous experiences with walkers whatsoever, which is why I wanted to make is as simple as possible, and reasonably small. I also wanted it to steer, and I have considered two possible solutions to achieve that: by using pair of legs that are articulated and can be set at angle to each other, or by driving left and right legs by separate motors. Since building the articulated body for the walker seemed to hold a significant level of complexity, I chose the latter solution. It had, however, a single drawback that made me give up the initial 6-legged version of the walker and try an 8-legged one. The reason was: legs' synchronization.
To keep a 6-legged walker stable, legs must stay synchronized – meaning that left and right legs must touch the ground simultaneously. Thus the vehicle has three points of support at all times (e.g. two left and one right leg), which – given proper weight distribution – is perfectly sufficient. However, driving left and right legs separately means there is no mechanical connection between them, which makes it impossible to keep them synchronized – sooner or later they will become desynchronized while turning. This is a trade-off that this solution comes with, offering accurate steering and ability to turn in place. I've spent some time testing a 6-legged walker, but it wasn't stable enough because of the desynchronized legs, and it would often fall forward or backward while turning. Luckily, the modular construction of the body made it easy to add fourth pair of legs, and with 8 legs altogether, the walker proved much more stable. Still, a walker with constantly synchronized legs and with steering done by articulating the body would probably show superior stability.
Each leg has two ranges of movement, both executed as arches: forward/backward and up/down. The first movement is realized by an eccentric mechanism rotating the vertical axle with the leg mounted on it. The latter movement is realized by a link between two towballs: one on the leg (in what we could call a knee area) and another one atop a double wedge belt wheel that rotates acting as another eccentric mechanism. The main advantage of this solution is that I was able to drive both movements by a single vertical axle, driven through a worm gear by a longitudinal driveshaft in the body, thus greatly simplifying the entire transmission. The disadvantage is that the weight of the vehicle is supported by links, which can't handle high loads, thus limiting the possible weight of this walker.
You may note that the legs have been equipped with rubber tips. It was done partially to reduce the slip and thus improve the walker's movement, but the primary reason was… the sound. If you watch the video and find walker's movement creepy, rest assured that it's nothing compared to the sounds of its stamps. It sounds so unnerving that I got rid of all-plastic legs after just a few test walks.
As mentioned before, I was trying to keep the walker reasonably small. It can be, however, made larger and faster by simply increasing the spacings between its pairs of legs. This would make it possible to use longer legs, resulting in faster movement and in taller vehicle, able to walk over greater obstacles. Still, the solution where walker's weight is supported by links alone, despite the greatly simplified and efficient transmission it provides, is most likely unfit for larger and heavier walkers. These will most likely require a different leg design, structurally stronger and with higher level of complexity. I find it exciting that after many years of building I still have brand new areas to explore.
Photos:
Instruction:
Video:
Media reference: