Land Rover series 2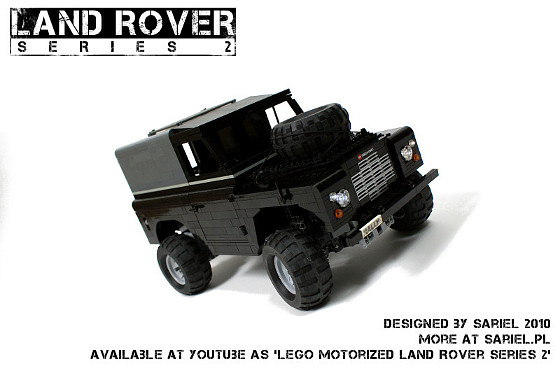 My final 2010 Truck Trial vehicle, built in less than single week after the previous vehicle failed. Features full pendular suspension, 4×4 drive, lights and opening doors, bonnet and rear board.
Datasheet:
Completion date: 03/09/2010
Power: electric (Power Functions)
Dimensions: length 48 studs / width 26 studs / height 27 studs
Weight: 1.985 kg (1.726 kg in roofless version)
Suspension: pendular, stabilized with shock absorbers
Propulsion: 1 x PF XL motor geared down 5:1
Top speed: 0.8 kmph in roofless version
Motors: 1 x PF XL, 1 x PF Medium
When I decided to abandon my Fiat SPA35 model, it was just a week before the Truck Trial race and my first decision was to pass on driving this time and to only take care of filming. Shortly after, I changed my mind and decided to try some simple 4×4 vehicle, just to drive something in the race. The vehicle was intended to combine the advantages of my two previous Truck Trial vehicles – Hummer H1 and Jeep Wrangler Rubicon, while also learning from Fiat's failure. I wanted to try to model another famous 4×4 vehicle, so the classic Land Rover series 2 (dating all the way back to 1958) was pretty much an obvious choice.
While the complete model appears much like a Hummer/Wrangled hybrid on the outside, it was internally much closer to the Fiat model. The chassis was built completely with studless parts and used large Technic turntables to hold suspension modules in place – both solutions tested in the Fiat for the first time. The Land Rover shared engine location, gear ratio and wheels with the Wrangler and a studfull body with the Hummer. In fact, the Rover used studfull body around a studless chassis, whereas Wrangler used studless body around a studfull chassis.
The suspension has undergone some major changes in comparison to the version used in Fiat. The front axle was reverted to the version used in the Wrangler, and then a single turntable was attached behind it and the steering system was additionally reinforced. Both drive and steering were transferred through the turntable – steering by a solid driveshaft and steering by am empty differential sitting on it. The rear axle was built from a scratch between two turntables. There was no gearbox, and – just like in the Wrangler – the drive motor was located above the front axle, right under the bonnet. The racing rules we use state that every model has to be equipped with a piston engine of accurate configuration and placement, unless the actual drive motor is located where the original engine is. Thus, locating the motor under the bonnet meant that no piston engine was needed in the model, which saved space, weight and drive motor's power. The steering was controlled by a single PF Medium motor geared down 15:1 and located low in the chassis, in front of the rear axle. The entire underside of the chassis was covered with studless parts, in order to create a single smooth surface that was unlikely to get  stuck on an obstacle, and in order to lower the centre of gravity as well.
Knowing that my Wrangler model had abundance of torque, I wanted the Rover to be much heavier.  Our racing rules take power-to-weight ratio of each individual model into account, therefore more weight at the same power means more points. Thus, I wanted the body to be massive, but at the same time it was my goal to keep the model's centre of gravity low, despite its significant ground clearance (up to 7 studs under cabin's floor). Therefore especially the lower portion of the body was built so densely that model came out almost undamaged from some crash tests I conducted later.
The body was equipped with a pair of opening doors, an opening bonnet with a spare wheel fixed on top of it (a common sight in early Land Rover versions), and opening rear board with the IR receiver attached to it. Most of the Land Rovers can be accessed from the back by a single door, and a board is a rarity. I chose the board over door because this way the IR receiver was more exposed, and could be pulled out from the cabin's inside to some extend if needed. Moreover, the rear part of the cabin has been adapted to house a camera. Due to weak mounting points, this solution worked well only on flat, level surfaces, as proven during the race.
It should be noted that the model's body was inaccurate: the front radiator grille should be put further back under the bonnet. I couldn't model it because of the frame that braces the suspension module of the front axle. Moreover, inspired by the Inception movie featuring a tracked Hummer H1, I have created a simple set of four tracks for the Land Rover. The tracks and wheels could be easily swapped in the chassis, and while I did not intend to use the tracks outdoors (our racing rules don't allow tracked vehicles of any kind), I have used these to drive around my apartment. The general performance was apparently inferior with tracks on, and in particular the traction was much worse than it was with wheels.
The completed model weighed a whopping 2.1 kg until I removed ballasted bricks that were mounted under the bonnet in order to shift the centre of gravity forward. It reduced model's weight to just below 2 kg, and I decided to leave it like that because there was no time left for changes. The model performed well at this weight, it experienced no mechanical failures and displayed superb traction, but it was obvious that it will be struggling against its own weight.
Land Rover was warmly welcomed by other contestants because of its look and its very short building time. It performed well in the race, no mechanical failures occurred, but its weight turned out to be a real problem. The model ran out of power to climb on several occasions, and toppled over once. It ended up at the last place in the race, much to my disappointment. Yet still, other drivers and viewers were greatly impressed by its look, which led me to believe that it would be a waste to take it apart, and that the model should enter our last 2010 race on October, with open body design that should significantly reduce its weight.
Photos:
Work In Progress photos:
Video:
Media reference: