Fiat SPA35 Dovunque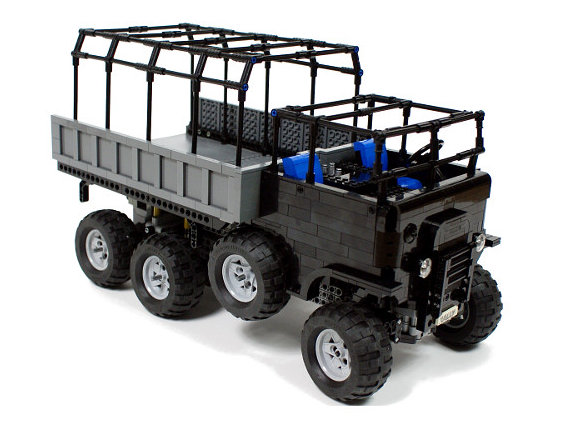 Model of an Italian WW2 military truck designed for Truck Trial races. Features 6×6 drive and full pendular suspension.
Datasheet:
Completion date: 06/08/2010
Power: electric (Power Functions)
Dimensions: length 53 studs / width 25 studs / height 33 studs
Weight: 2.166 kg
Suspension: pendular, stabilized with shock absorbers
Propulsion: 1 x PF XL motor geared down 8.337:1 (low gear) / 5:1 (high gear)
Top speed: uknown
Motors: 1 x PF XL, 2 x PF Medium
My first Truck Trial vehicle equipped with a gearbox. It caught my attention when I was looking for something more complicated after building several simple 4×4 vehicles. There were two main reasons that made me model this particular truck: its excellent approach and descent angles, and its pair of spare wheels. It was a rare solution, present in a number of WW2-era vehicles, to have a pair of spare wheels mounted on the sides of the chassis, relatively low, and with ability to rotate freely. It was helpful while climbing over obstacles, as these wheels had a good chance of preventing the chassis from getting stuck on the obstacle. For some reason, this solution apparently did not survive to this day.
Technically, the Fiat was supposed to continue and develop the solutions from my two previous Truck Trial vehicles – Hummer H1 and Jeep Wrangler Rubicon. It was built around a brand new studless chassis, unlike the two mentioned vehicles which had studfull chassis. It was also equipped with a simple linear 2-speed gearbox that was controlled remotely with an extra PF Medium motor, and it had unusual rear axle with 4 wheels. While the original vehicle has three regular axles, I decided to combine the two rear axles into a single pendular module that would have 4 wheels suspended on it. It has two advantages: firstly, while the module itself has a transverse pendular suspension, the wheels had a longitudinal one, so their flotation was better that it would be in case of two separate pendular axles. Secondly, a combined module needed much less space inside the chassis, thanks to which I was able to put the model's battery behind it and the gearbox in front of it. Finally, the Fiat's chassis used pendular axles mounted on the large Technic turntables, with both drive and steering transferred through the middle of these (drive transferred through a solid driveshaft and steering transferred by an empty differential sitting on it), which eliminated the problem of shock absorbers pressing on the driveshaft and thus creating a significant friction on it. Using the turntables resulted in slightly worse ground clearance, but has greatly improved the structural robustness.
The gearbox was made of a module attached to the PF XL motor, that was supposed to slide inside the chassis back and forth by a single stud, thus shifting the gear. By attaching the drive motor to it, I was able to eliminate a complex transmission system between the fixed motor and the sliding gearbox (this idea was first presented by  Emilus). The gearbox has a very sturdy structure and performed well during the initial test. Only double bevel gear wheels were used inside it, to minimize the problems with engaging/disengaging.
The model was equipped with a single body, which was completed just hours before the race. Despite appearing tall, the body has relatively low centre of gravity thanks to an openwork structure above the cabin and the cargo box. I didn't have time to care about details such as doors, but at least I made the windshield able to be folded down, just like in the real truck. The cabin had a very basic interior and a simple inline piston engine driven from the driveshaft.
The truck's performance in the race was arguable. On one hand it has shown good agility, surprising stability and I was able to drive it with great precision. On the other, it was pestered by constant problems with the gearbox, because the gears inside it started to slide along the axle under stress. I was able to temporarily fix it with tweezers until at some point the axle popped out of the drive motor and there was no way to put it back in without taking major portion of the body apart. It has forced me to give up and withdraw from the race.
At first I felt like fixing the gearbox would solve the model's only problem, resulting in an excellent Truck Trial vehicle. Thus I was obviously planning to use it in the next race. Unfortunately, as I started to rework the gearbox, more problems occurred. The redesigned gearbox needed serious modifications of the chassis. Once the chassis was completed, the rear axle and the drivetrain started to fail. I have made several attempts at solving these problems, until I noticed that the knob wheels in the rear axle's drivetrain are being worn down very quickly, most likely because of the resistance generated by four wheels. At this point I decided to give up on the truck, on assumption that combining two rear axles with large tires into a single module with drive transferred to by just a pair of knob wheels was a bad idea. The combined resistance of four wheels was simply too much for the knob wheels to handle.
The model became quite popular with the other Truck Trial contestants because of its unusual look and wheels set-up. It became known as "the revenge of Mussolini", and my decision to give up on raised many protests.
Photos:
Video: