4-speed Compact Linear Gearbox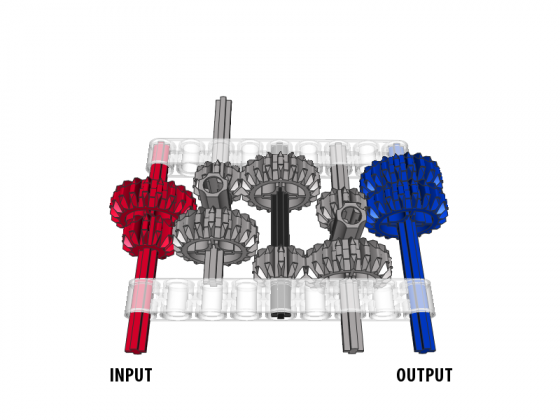 Compact gearbox design, with two linear shifters, fixed input and output shafts, and large span of gear ratios provided.
This particular idea started with the Truck Trial vehicles in mind. As the trucks used in the Polish Truck Trial are being constantly developed, more and more of them became equipped with simple gearboxes. Such vehicles have the obvious advantage of being able to adapt their drivetrain's gear ratio to the requirements of the track, sacrificing speed when more torque is needed and gaining extra speed when less torque is needed. Developing a gearbox that would last through a Truck Trial race is quite a challenge, which is why gearboxes only became popular recently.
Aside from highly experimental or lightweight vehicles, all gearboxes currently used in our races are linear gearboxes. There are two reasons for this: firstly, a linear gearbox usually has more compact and thus more robust structure, and secondly the transmission driving rings used in more sophisticated Lego gearboxes are much less torque-resistant than the gear wheels are. Since linear gearboxes only use gear wheels, no transmission driving rings at all, this problem is eliminated. Additionally, with very simple, usually 2-speed linear gearboxes the shifting mechanism is typically very simple too, making the general complexity level of such a gearbox fairly low.
As Truck Trial races involve a significant torque to be handled, the gearboxes are made as simple and robust as possible, rarely using more than 2 speeds. We stick to the rule than any mechanism can be complex or robust, but not both – and it works very well for the Truck Trial constructions. Even a gearbox with just two gears is quite an advantage; a vehicle that can gain extra torque to drive uphill and extra speed to drive downhill will always beat the one that has no gearbox and drives at constant torque and speed. Since the amount of torque required to overcome any given obstacle is more or less the same for every truck, the gearbox-equipped trucks win by simply jumping to high gear and driving faster whenever possible.
There are two basic problems involved when building a torque-resistant linear gearbox: the choice of the gear wheels that will engage and disengage, and the length of the axles that will transfer the drive. As for the first problem, the double bevel gears are a very common choice because the shape of their teeth makes them engage and disengage easily, and also because they are strong (the smallest double bevel gear wheel, the 12-teeth one, is many times stronger that the smallest regular gear wheel, the 8-teeth one). As for the latter problem, the solution is simple: the axles have to be as short as possible and reinforced in as many places as possible to prevent them from bending under torque. Additional protection from the torque for the gearboxes is achieved by using gear reduction between the gearbox and the wheels. Thus a gearbox is placed directly on the drive motor's output shaft, and it only handles motor's nominal torque, not the torque multiplied by the gear reduction.
With this said, I started to work on a gearbox for my next Truck Trial vehicle. I wanted it to have fixed input and output shaft, with the only moving elements located somewhere between, to eliminate possible weak points. It meant that I had to use separate shifter axles. Moreover, to keep the axles short I had to keep the moving by a single stud only, so a single shifter axle could only provide two gears. That's why I used two shifter axles, looking for a gearbox that would provide at least three gears.
The resulting gearbox was supposed to be mounted vertically, but is shown laid on a side in the pictures and video in order to show its internals better.  First video shows bare gearbox and its construction, while the second one shows a version with remote-control already integrated into it, and reinforced adequately. The gearbox provides a wide span of gear ratios, from nearly 8:1 reduction to nearly 1:3 overdrive. It is reasonably small and can shift from any gear to any other gear. Unfortunately it needs two separate motors for remote control and has a rather unusual switching pattern. As shown in the videos, the shifting time is reduced to as short as possible in order to make the gears engage and disengage seamlessly every time.
Eventually, I kept this gearbox for practical testing in some more ordinary vehicle and choose a much simpler 2-speed one for my Trial Truck. I do, however, find it very useful and convenient to control remotely, and I will certainly look for more than just one opportunity to use it in my future models, most likely some at least medium-sized trucks. If it proves successful, it may very well be installed on a Truck Trial vehicle, as intended from the beginning.
Photos:
Videos: