PF Arm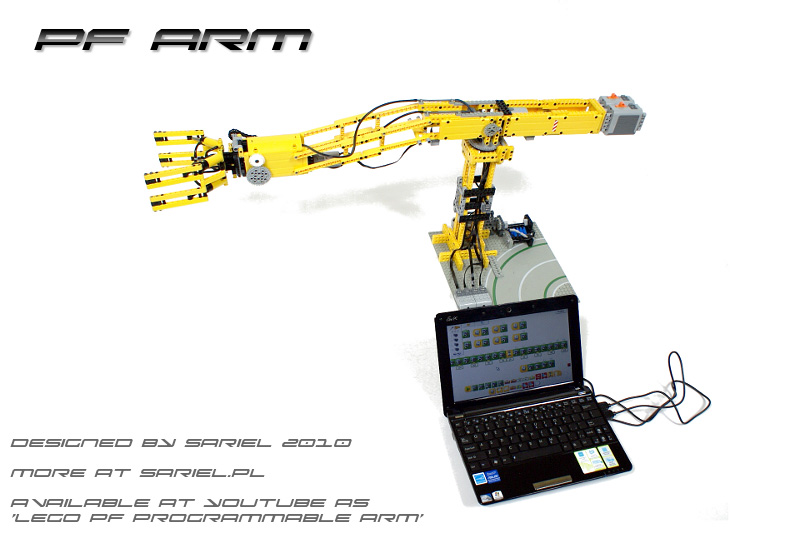 Simple arm with 4 motors, controllable and programmable with the LEGO Education WeDo software.
Datasheet:
Completion date: 19/06/2010
Power: electric (Power Functions) / pneumatic (fed from internal compressor)
Dimensions: height 58 studs / full length of the arm: 113 studs
Weight: 1.53 kg
Motors: 4 x PF Medium
I had access to the LEGO Education WeDo kit for some time, but it was only after I bought second USB hub that I was able to come up with some ideas on how to make use of it. The kit is in a way similar to the LEGO Mindstorms, except it employs the PF system's components and it needs a computer to be run on. Therefore it is not as mobile as the LEGO Mindstorms with its separate CPU brick, but it's much more flexible as it needs a computer and PF components that most of the builders already have.
One of the limitations of the WeDo system's architecture is having just two independent outlets on each USB hub. While it is consistent with how the PF IR receivers work, it also means that you can only control 2 motors/sensors with the basic kit, and up to 6 motors/sensors maximum as the software can control up to 3 USB hubs at once. This is still, however, better than 3 motors that can be plugged to a single NXT brick.
The first version of the arm was built in a couple of hours to be displayed on the same public event as my Caterpillar excavator was. It was controlled by 4 PF switches, to allow viewers to control it manually. It was, however, built with the WeDo software in mind from the very beginning (hence just 4 motors) and after the event I fixed some minor shortcomings and plugged it to my notebook.
It was easy and convenient to control all the motors using a simple keyboard layout as presented below. Basically, there were two keys for each motor, for running it in one direction or another, and there was a single universal stop key. A separate key was responsible for executing complex programs, and I have prepared one such program for the video (it was a time-consuming task due to the need to manually pre-adjust range of each movement).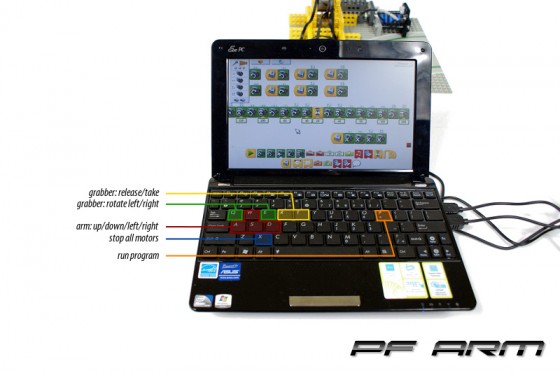 Another shortcoming of the WeDo software is that it controls motors using a timeout function and not a rotation counter like the Mindstorms do. The advantage of this solution is the ability to use any motor – the PF extension wires make it possible to plug any 9V motor into the PF system and thus to make it WeDo-controllable. The disadvantage is that motors are friction-sensitive, which means that a motor that is run forward and backward for exactly the same time rarely returns to the exact starting position because of the differences in friction it encounters. With the executable programs, I solved this issue by pre-adjusting every movement manually.
The arm itself consists of a simple grabber with 4 independent fingers, each with a rubber tip for improved grip. The fingers are controlled by an autovalve and thus are capable of adjusting to the shape of the grabbed object. The grabber has a wrist that can be rotated through 360 degrees and uses a safety clutch. The arm is elevated with two linear actuators, with the arm's level being maintained throughout the elevation process. Two battery boxes are mounted on the rear side of the arm to act as a counterweight for the grabber and its load. Finally, the entire arm can be rotated through 360 degrees by a turntable at the top of the tower it sits on. It felt like something innovative to build, and had certainly a huge potential for various programs and arm's modifications.
Photos:
Video:
http://www.youtube.com/watch?v=8Sp_x–nUjI
Media reference:
Fascinating LEGO Model Of The Day, Robótica recreativa y educativa (Spanish only)