JCB 180 Tracked Skid Steer Loader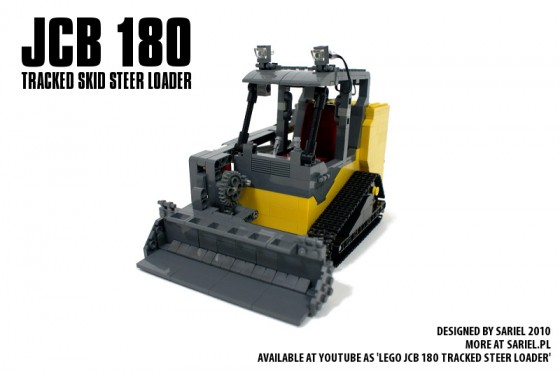 Model of a JCB skid steer loader. Features drive, steering, remotely raised arm, tilted bucked and working roof lights.
Datasheet:
Completion date: 14/02/2010
Power: electric (Power Functions)
Dimensions:  length 31 studs / width 18 studs / height 20 studs
Weight: 0.73 kg
Suspension: none
Motors: 3 x PF Medium, 1 x micromotor
No a long ago, I have come into posession of the LEGO micromotor, something I wanted to have for years. Micromotors are unique, hard to get at a reasonable price, and impossible to replace in certain cases. When I finally got mine, I wanted to use it to control the horizontal angle of the main gun's barrel in my T28 model, but the model was almost complete by the time I got the motor. Then it occurred to me that the smallest project on my list could definitely use the micromotor.
JCB 180 is a simple tracked skid steer loader. There are plenty of skid steer loaders and I was never interested in building one, viewing them as simple and technically boring. The JCB 180, however, is one of few loaders with a single arm instead of two, and that makes it challenging.
My goal was to  achieve maximum functionality while showing as little mechanics as possible. I've spent quite a while trying to fit a small transverse subtractor into the chassis, but I had to admit that it's too large at this scale eventually. Therefore the drivetrain is very simple: it consists of two PF Medium motors, each driving a single track. Third PF Medium motor drives the linear actuator that controls the loader's arm. Having one arm instead of two turned out to be a blessing in disguise, as there was no space inside the hull to drive two linear actuators or to transfer the movement from one arm to another. The roof lights are a good example of how compact this model is: they are coupled with the micromotor, because there was no space to connect them elsewhere.
The micromotor was located at the end of the arm, and it proved quite easy to integrate into a liftarms-based structure. It uses 3:1 gear reduction to change the bucket's angle. I did some capacity tests with Lucius the hamster (roughly 60 grams heavy), and he was able to stay on the bucket without causing any sort of mechanical malfunction. The capacity, however, is severely limited by the fragile bucket's construction – the first bucket I made was so heavy that it tilted to the side in a very ugly way. The final bucket was optimized for minimum weight.
The model was built in less than a single day, and it could certainly be somewhat upgraded. But I was satisfied with its functionality and look anyway, and considered it a relaxing build, without the need to make it better & better. It was also Lucius' first time to appear in the AFOLs' world.
Photos:
Video: