T28/T95 Super Heavy Tank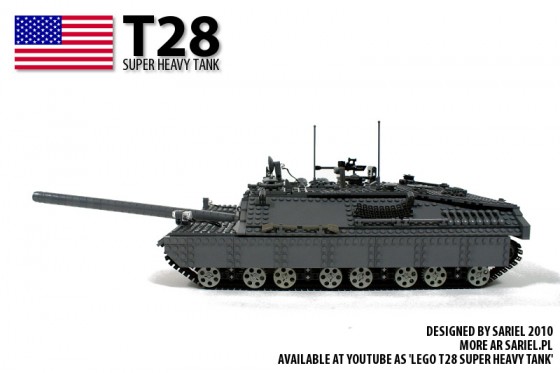 Model of the American WW2 super heavy tank prototype. Features full suspension, drivetrain with a subtractor, lights and advanced main gun control system.
Datasheet:
Completion date: 13/02/2010
Power: electric (Power Functions)
Dimensions:  length 73 studs (including main gun's barrel) / width 30 studs / height 16 studs (not including aerials)
Weight: 2.2 kg
Suspension: pendular bogies
Motors: 2 x PF Medium, 2 x PF XL
T28 was an unusual project. Started in Spring 1945, it was designed to break through German defenses and to counter German super heavy tanks such as Maus or E100 (none completed, fortunately). The designers focused on the armament and armour of the tank at the cost of its mobility, and they decided not to use a typical turret as it would not be needed against fortifications. T28 had one of the thickest tank armours in history, but it was driven by an V8 engine providing merely 500 HP – a very little power for a tank of such weight. It was also one of few tanks to move around on 4 tracks. The outer set of tracks could be removed for transportation by train. The tank could drive on a road on inner tracks, towing the outer ones behind.
Out of 25 planned T28s, only two were built. The war ended before they were operational, and in 1947 they were subjected to evaluation. It went bad – one prototype was completely destroyed by engine fire, and the other one proved that a 500 HP engine can barely move it. Both were supposed to be scrapped, but the undamaged one was found in 1974 in a back field at Fort Belvoir, Virginia. It is unknown where it was earlier, and it is unknown how a tank of this size can remain unnoticed inside a military base 🙂
The model is relatively simple on the technical side. It uses only 4 motors, two to drive and the other two to control the main gun. Just like in the real tank, the main gun has limited traverse and elevation. The drivetrain consists of a subtractor and two PF XL motors, one for drive and one for steering, on assumption that it takes quite a torque to steer a tank that wide and with 4 tracks. The model is not entirely accurate – one of departures include a V6 piston engine in the back, instead of fuel tanks. The real machine was driven by V8 engine, but only 6 pistons can be seen through a 8×8 grill, so I used a V6 engine. It has internal lighting, with lights pointed at each piston, and all the lights are coupled with the drive engine, so the faster tank goes, the brighter the engine is.
Another departure is the shape of the front of the hull. It was changed mainly to house the main gun control mechanism. The real tank had its gun mantlet attached to the hull, while the model's mantlet is attached to the barrel and moves together with it, hence it needs a certain margin of free space around it.
The most challenging element of the model was its suspension system – not because it's advanced, but because it's so expanded. Each of the four tracks uses four pendular bogies, each with two road wheels. It sums up to the total of 16 bogies with 32 road wheels. Each track's suspension is separate and independent, and each track consists of 123 tread links. Together with the spare track section on the armour, it sums up to over 500 tread links used for the model.
The model looked really well, and it definitely paid off to build it in dark grey instead black. It performed well, although the main gun's barrel was a bit wobbly. It also seemed to experience problems with the drive motor – it could drive backwards and turn very well, but it seemed that driving forwards put more and more tension on the motor. The problem seemed to be getting worse over time, and it is possible that the PF XL motor used for drive was defective. Because of that, the model appeared very slow on the video, whereas given a properly functioning motor it should have been faster. Still, it was my first tank in dark grey, and came highly acclaimed for its look.
Photos:
Video: