Dodge Tomahawk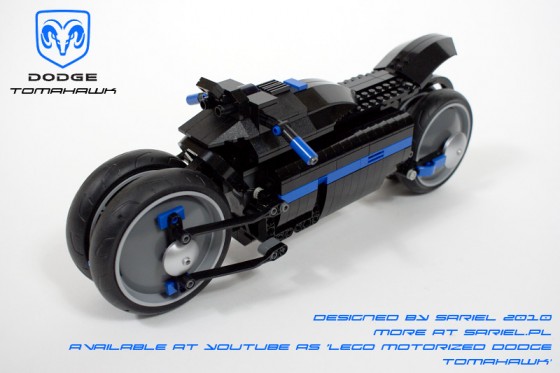 Model of a concept bike. Features full suspension, drive and lights but no steering.
Datasheet:
Completion date: 31/01/2010
Power: electric (Power Functions)
Dimensions:  length 44 studs / width 16 studs / height 16 studs
Weight: 0.73 kg
Suspension: full with shock absorbers, left and right wheels connected together
Motors: 1x PF Medium
I like unusual vehicles and I like bikes, so I got interested in Dodge's crazy concept bike (4 wheels and a 500 HP engine) quite a time ago. I wanted to build smaller, not motorized version earlier, but I eventually focused on a medium-sized motorized model.
The goal was to make it driven remotely, with full suspension, and looking as accurate as possible. Steering turned out to be impossible – the real bike has left and right wheels suspended independently, and is steered by tilting left / right.  With the LEGO model, it became apparent that both front and rear suspension needs a solid axle connecting two wheels in order to maintain the proper stiffness. Since there was no place for another motor anyway, I decided to give up the steering completely.
The model was eventually not entirely accurate, but it maintained the size and the silhouette of the original vehicle.  All electric and almost all mechanic parts were covered up, the model was fitted with front and rear light and an integrated on/off switch. I liked its look and I consider it an interesting experiment, even though it was not so really  fun to drive only straight ahead 🙂
Photos:
Video: