Tatra T815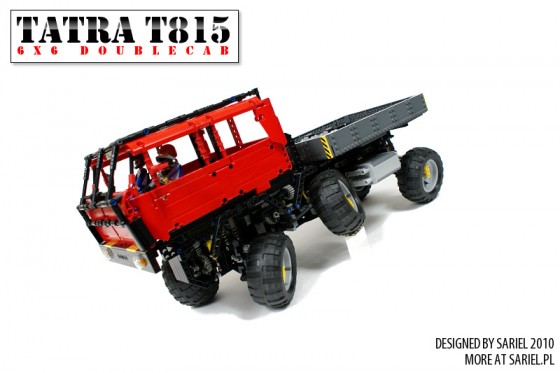 My first Truck Trial vehicle for 2010. Features 6×6 drive and full independent suspension.
Datasheet:
Completion date: 10/04/2010
Power: electric (Power Functions)
Dimensions: length 66 studs / width 25 studs / height 31 studs
Weight: 2.624 kg
Suspension: full independent with swinging half-axles
Motors: 1 x PF Medium, 2 x PF XL
My first 2010 Truck Trial vehicle had a rather difficult creating process. Even though I started to build it more than a month before the race, the final version was created under two weeks time. It was mainly because of the chassis, which wasn't stiff enough to handle the torque of two PF XL motors, and got completely rebuilt three times.
The goal of the Tatra was to have a realistic suspension with swinging half-axles which are typical for all Tatra trucks. It was achieved by removing differentials and transferring the drive with the knob wheels. The modern Tatras have their half-axles offset a bit – this was not modelled in order to keep the steering system simple and sturdy.
The steering system was located entirely between axles 1 and 2 and consisted of two complex sliding beams with links. The beams were sliding in different directions for axle 1 and 2 and were controlled by a driveshaft whose direction of rotation was inverted in between these axles. Because of insufficient internal space both beams were given the same gear ratio, resulting in an identical steering lock of both axles.
The drivetrain was kept as simple as possible, and the main portion of it, including the drive motors, was located between axles 2 and 3. Both drive motors were located between two stringers of the vehicle's frame, one behind the other, and were not connected directly but by a common driveshaft located beneath them. Since the space between axles 1 and 2 was occupied by the steering system, an extra driveshaft was needed to transfer the drive to axle 1. It was located above the axles, under the cabin, and it transferred the drive to a V12 piston engine located inside the cabin as well. Thus the transmission of the axle 1 was located in front of it and in order to prevent such a vital mechanism from damage, a cover made of liftarms was installed before the axle.
The body of the truck was rather simple, with the cabin built almost exclusively with the new Technic panels to reduce its weight. The cargo case was simple and shallow, and there was a transportation handle built into vehicle's frame behind the cabin – a solution I've used in some of my earlier Truck Trial vehicles, and which proved very useful as every Truck Trial race involves a lot of carrying the vehicles around. The cabin had a safety cage built on it, which was meant to give it extra stiffness and a more Tatra-like look, as the real Tatras participating Truck Trial races are always equipped with distinctive external safety cages.
The Tatra suffered from the same thing that most of my earlier Truck Trial vehicles did – insufficient amount of testing. The problem with this kind of vehicles is that they can be only fully tested once finished, because test are most revealing at full vehicle's weight. As you can guess this implies that a finished vehicle has to be taken back apart if it fails tests, and to avoid this arduous procedure it is a common practice to test just the chassis alone with extra load on it simulating the anticipated body's weight. It doesn't always work as it's difficult to precisely anticipate the final weight of the body if it wasn't built yet, and it's almost impossible to simulate its exact weight distribution. I have to admit that being short on time, I have only given a minimal amount of testing to the final version of the Tatra – this was also because I was afraid of damaging it right before the race.
During the race, the model experienced two problems – the first was a failing transmission to the front axle, which snapped. There were also minor problems with axle 3, which meant that only the middle axle worked at full efficiency, and it didn't really help while climbing obstacles. The reason was a faulty construction of the chassis – the suspension itself worked fine, all the snapping occurred in the transmission system inside the chassis. The second problem was sideways stability. While building this model, I have given a lot of attention to make sure its weight distribution prevents it from falling forwards or backwards – and I succeeded. The sideways stability, on the other hand, proved much below what could be expected. It seems that the problem was not related with this particular vehicle but with this type of suspension in general, as exemplified by another Tatra model, the T813 built by Lomero and used in the same race. His Tatra had the same suspension type while keeping a considerably lower silhouette which suggested a better stability. Surprisingly, it kept tumbling over a couple of times per each section of the race. It convinced me that it's practically impossible to model the Tatras' suspension system in such a way that the resulting model is stable.
Finally, the model's drivetrain was pretty much obsolete in terms of the rules used in Polish Truck Trial. The rules take power-to-weight ratio of each individual vehicle into account in order to prevent builders from winning by simply adding more drive motors. Each vehicle is given its own points conversion rate based on its power-to-weight ratio, which basically means that you can win with a vehicle that can race despite having a very low power-to-weight ratio (resulting in high points conversion rate) or with a vehicle that has a high power-to-weight ratio but is very fast and can complete the race in short time. Tatra was neither of these cases – it had a relatively high power-to-weight ratio because of two PF XL motors, while not being really fast. The current tendency among the top Truck Trial builders is to use complex gearboxes with 3 or even 4 gears available. Thus even a truck which is much heavier than Tatra can be driven by a single PF XL motor whose gear ratio is changed as needed by the means of the remotely controlled gearbox. This results in a models that are slow but still capable, while having an extremely high points conversion rate. Two good examples of such trucks are Emilus' GINAFs and Atr's Volvo – both being large, heavy, and driven by a single motor.
Upon observing the race, I've decided to abandon the Tatra project. While the transmission problems could be solved given a sufficient amount of testing, the suspension system would still not provide satisfying stability. With the next race being only two weeks away, I decided that I would focus on building a new, small, lightweight and efficient vehicle rather than fixing Tatra. This is also the reason not to document the Tatra's technical solutions – I think it's better to build something more successful and then document it once it's solutions are proven in a race. Right not I have a complete front suspension of my next Truck Trial vehicle, which looks very promising, and if it succeeds in the race, I intend to publish a complete instruction for it.
Photos:
Videos: