S Tank 2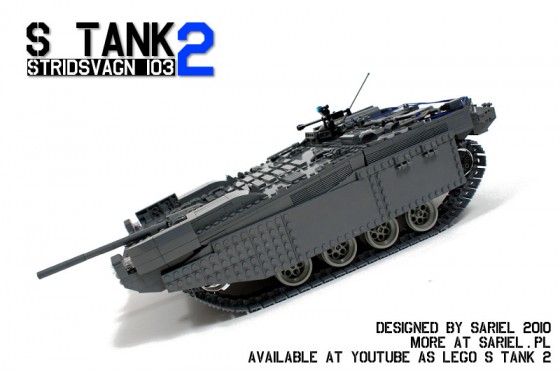 Re-edition of the model of the Swedish MBT, built two years after the initial version. Features full suspension, remotely tilted hull, remotely controlled dozer blade and lights.
Datasheet:
Completion date: 06/03/2010
Power: electric (Power Functions)
Dimensions: length 67 studs (including main gun's barrel) / width 25 studs / height 19 studs
Weight: 2.15 kg
Suspension: pendular bogies
Motors: 2 x PF Medium, 2 x PF XL
After almost exactly 2 years, I decided to re-build my perhaps most renown tank model. The S Tank, created back in 2008, has been extremely well welcomed, and no matter how many bigger, more accurate and more complex tank models I've built later, there were always some people claiming that S Tank was the best. I, on the other hand, was aware of many shortcomings of this model, and it was my goal to overcome these shortcomings in the following models – a fact that has apparently escaped the attention of many S Tank's enthusiasts. Eventually, I decided to build this model again using my current level of modeling skills, even though it was against my 'never build the same thing twice' rule.
The original S Tank, or Stridsvagn 103, is a fascinating machine all by itself. Designed in 50s, it was the main tank of the Swedish army for the next 40 years, until arrival of the Leopard 2. What was the key of its success and its long-term service? The fact that it was designed with Sweden in mind. Moreover, it was designed specifically for defensive roles. This is why the typical turret was removed completely, because the tank was intended to stay hidden waiting for the enemy to come. To operate in difficult Swedish terrain, the tank was fitted with then-advanced hydropneumatic suspension and a turbine engine (in addition to a traditional diesel engine), making it the world's first MBT to use turbine engine. Aiming was done by moving the entire tank, using the suspension to tilt the hull as needed. In order to fire its main gun, the tank had to be stopped and its suspension locked – it was clearly a drawback, but it was acceptable given the tank's defensive role. It should be also noted that in 50s and 60s the fire control systems were relatively primitive, and tanks rarely fired while moving. Finally, the S Tank was equipped with a front dozer blade, which could be used to entrench it quickly and without the need for crew to leave the vehicle.
Thanks to removal of the turret, the tank's front could be protected by a single armored plate, set at an angle that made it very difficult to penetrate. Actually, at the time it was designed, the S Tank's front armor was virtually impenetrable for any other tank's armament. To make a full use of this advantage, the crew included two drivers – the second driver was facing backwards and had his own set of steering instruments. Thus the S Tank was able to drive backwards quickly, while being protected from the enemy by its front armor, as well as being able to return fire at any time.
The S Tank was clearly an unorthodox design, so specific that Sweden remained its only operator, but it could be pretty lethal to any advancing force. Why? Because it had to be spotted before it could be engaged. Now, take a good look at a fully entrenched S Tank: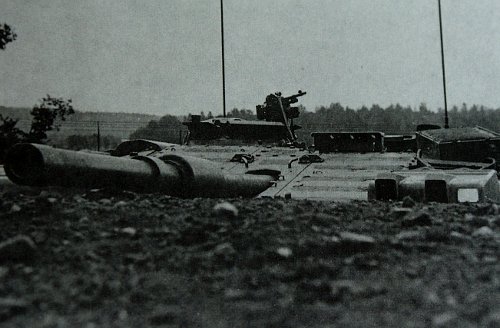 The new model of the S Tank was supposed to be: accurate, performing well and dark gray. I believe it meets all these conditions. The hull, which was tilted pneumatically in the previous version, is now controlled by linear actuators. It takes much more hull's internal space, but the stability provided by such solution is peerless. Since my first S Tank was driven by a single XL motor, and the motor was apparently working pretty hard, and now the PF speed control is available, I used two XL motors, each one driving a single track. The tracks' suspension system consists of 4 large, realistic road wheels (6595 wheels without tires work very well with tracks) suspended on pendular bogies, two wheels per a single bogie. I wanted to use a torsion bars suspension for the first time, but it was impossible to make it work together with the tilted hull. The front dozer blade is operated by a single PF Medium motor instead of pneumatics, and it works better than I expected (this is an application where pneumatics usually performs better than motors do). It should be noted that front part of teh hull houses a traditional battery box rather than the rechargeable battery, and there are two reasons for that. Firstly, a battery box can provide more power for two PF XLs used simultaneously, and secondly I needed something heavy in model's front part to acquire the proper weight distribution.
As for the visual details of the model, my goal was to model the most distinctive ones. Like many tanks with long service period, the S Tank has undergone several modifications and there are 4 variants of this tank, which differ mainly in details. Few details are fictional, just to fill some empty spaces. Please note that this model uses custom chrome sprocket wheels, rather than original ones that come only in yellow or orange at the moment. These wheels have been purchased at this Bricklink store.
The model took a lot of work and a lot of extra shopping for parts, but I think it was worth it. For me, it is clearly my best-looking tank up to date. It seems that models in dark gray look particularly well on photographs, which is why I attempted to make a couple of macro-like shots, even though I only had a general purpose lenses (macro lenses are expensive beyond human reason). The model performed very well too – it was my fastest tank up to date, and its large road wheels made the suspension's work spectacular to watch. I have enjoyed driving it over a wrinkled blanket more than I enjoyed driving any other tank under any other conditions. However, there's a good chance that it would perform better with a torsion bars suspension.
Photos:
Video: