2009 Roundup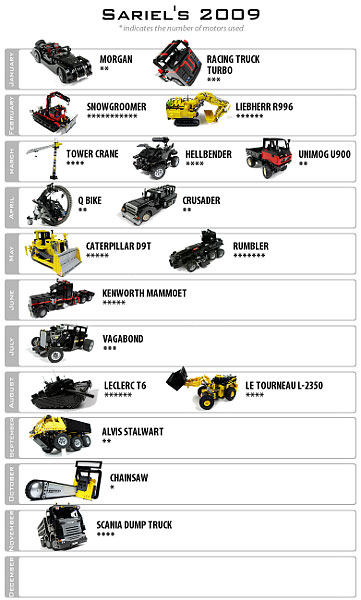 Roundup of another year of my building activity. Includes all constructions published during this time, as well as some general popularity statistics and some announcements.

2009 was a bit slow year. It resulted in 18 constructions, which pales to compare with the 34 built in 2008. There are two reasons for this: firstly, the level of the complexity of my constructions increases gradually, more and more attention is given to their aesthetics, their authenticity, as well as to the way they are published. Secondly, I have spent long time in late 2009 working on an enormous model of a bucket wheel excavator, which was over 2 meters long and 7 kilograms heavy when it failed ultimately. The time spent on this model was sufficient to complete 2 or 3 smaller constructions – but it was an instructive experience, so I don't consider it entirely wasted.
2009 has also ended with an unfortunate accident with a model of the Volvo EC290C pneumatic excavator – it was going to be published on December 31st, but a breach in the pneumatic system occurred during the very final tests and now the publication has to be postponed until the model is partially taken apart, fixed, re-tested and put back together. You can follow the excavator's building process at Facebook.
The 18 constructions are:
2009 is also my website's  first year of existence. It turned out to be successful and popular way above what I could have expected, resulting in almost half a million visits, in numerous references from other websites, and undoubtedly in a growing number of people who watch my work on a regular basis. In fact, the growth of popularity was so unexpected that it forced me to move the website to another hosting provider in December 2009, thanks to which the website's performance has improved significantly. I would like to thank all of you readers, and to present you with some numbers that may become an interesting point of reference at the end of 2010.
2009 in numbers:
18 constructions
99 posts
over 1,250 comments
494,000 views
20,000 absolute unique visitors in the last quarter of 2009 according to Google Analytics
My work work is also popular at YouTube. Let's sum it up:
110 videos
almost 1,960,000 video views
over 40,000 channel views
1,015 subscribers
2009 has resulted in something I didn't think of when launching this website, that is in two tutorials on building. Both have turned out to be very helpful and popular, and the first one is going to be included in some future issue of the Hispabrick magazine. If I'll have enough of spare time and topics to write on in 2010, more tutorials may follow.
Probably the nicest thing that happened to me in 2009 was the invitation to write for the official LEGO Technic designers' blog. While I am no LEGO designer by any means, it was extremely rewarding to find myself as one of just three guest bloggers worldwide. So far it has no significant influence on my activity, but the very idea of inviting people from outside the company is something very nice, innovative and promising of the LEGO crew. Who knows what they may come up with next? 🙂
Finally, the Facebook page launched in half of December has managed to gather over 220 fans who are following my building process, presented on photos every few days. While this way of showing my work is new to me, it seems to meet everyone's expectations so far.
I would like you to know that 2010 is going to be even more interesting. Not only my constructions are going to continue their tendency to become more complex and good-looking, but there are also models of some legendary vehicles coming, including a Truck Trial-capable Hummer H1 and the supercars line. Moreover, as I have mentioned some time ago, I have a few special projects which are highly experimental and therefore kept secret to keep you from disappointment in case of a failure. Two of these projects are very likely to come true in 2010: these are the A-10 Thunderbolt fighter (not a flying one) and the Batman's Tumbler Batmobile. While both are very demanding of me and will not be completed in the nearest months, I hope you're happy to know they are coming.
2010 will also certainly bring plenty of new, hopefully useful ideas. Two of these are coming very soon, one of them being a brand new compressor design, created specifically to provide high power in a limited space. I'm also going to experiment with the ideas of other builders, e.g. by integrating the automated CVT gearbox developed by ZBLJ into a subtractor in a model of the T28 Super Heavy Tank.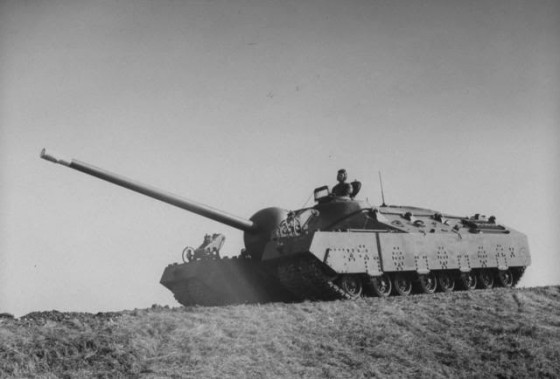 What is the 2010 going to be like? I can certainly say that all my videos will be kept in the YouTube's HQ standard (including the ones from the Truck Trial races), and that I will seek to make them more enjoyable, e.g. by avoiding long, boring parts and showing models' working internal mechanics whenever possible. The Facebook page is most likely going to be regularly used to show the building process of my future constructions, but there are no promises as this activity puts extra effort & extra pressure on me. If the Brickshelf continues to fail in 2010, I'm prepared to host all the pictures of my constructions entirely on my own – in worst case it will take just a couple of days to make this website and my work completely Brickshelf-independent. Finally, while I was actually out of Truck Trial racing in 2009, I'm going to get back to it effectively in 2010 starting with the aforementioned Hummer H1 model.
I would like to say that I honestly regret building that slow. However, with a hindsight it appears to be beneficial for my constructions – more and more new unprecedented LEGO pieces is released, more new ideas is exchanged in the builders' community, and generally more possibilities open up as they wait to be built. I think it is fair to say that some things should not be built too hastily. With this said, I hope you will enjoy my work in 2010.