2011 plans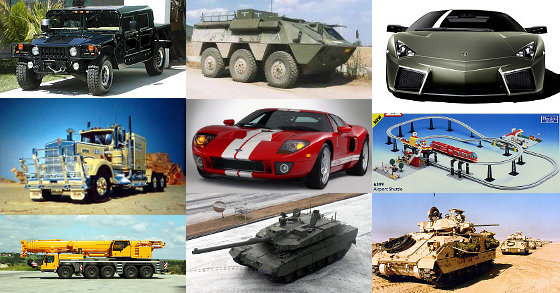 A somewhat late overview of my building plans for this year.

Presenting plans for new year in the middle of March may seem a little delayed, but it just happened so that I really had no time to dwell on these earlier. I should start by saying that I expect to produce less constructions this year, largely due to a huge amount of work required to get my book ready. Still, I hope to build at least 10 more models.
A very important part of these plans is my supercars line, which I have announced a long time ago, to little effect. My only supercar so far was a 1969 Dodge Charger model, one that I wasn't very happy with, and one that taught me that a supercar with a studfull body is a bad idea. I will probably stick to 8448-styled supercars permanently, and with this in mind I am determined to build at least two supercars this year, the most probable choices being the Lamborghini Reventon and the Ford GT40. The Ford can be actually built first, due to its smaller size and lower complexity level.

Another important area of building are the Truck Trial vehicles. I feel these had too much impact on my plans last year, as I have built 5 vehicles to a very insignificant effect. At the moment I have plans for only two such vehicles this year, and should they fail, I will probably quit driving in the Truck Trial races completely. The two vehicles are a Humvee and a BMR-2 personnel carrier. The first one will be another try at the classic Hummer H1, which I already modelled once, but this time I want to try a slightly larger size and a more ambitious approach, including a realistic suspension, that is an independent one with portal axles. Such a suspension is quite a challenge to build with LEGO pieces, but I believe I already have a working solution at hand. Ironically, despite its 'militarized' name, the model will be more clearly a civilian H1 than my earlier one: it's going to be black with some chrome additions, and probably made to appear somewhat tuned. The BMR, on the other hand, will be a close relative of my 2009 Alvis Stalwart, with a 6×6 independent chassis based on LEGO suspension components. It will use larger wheels than Alvis did, and it will have steering on axles #1 and #3, which should result in an unsurpassed manoeuvrability.

2011 is going to be a year I take interest in something completely unrelated to the Technic line: the LEGO Monorail system. It has been my childhood dream, and only recently I realized that it can still be bought, at prices generally lower than e.g. LEGO Trains system. I already have a basic Monorail network at hand, and I will be expanding it gradually whenever my budget allows. The Monorail cars are easy to run with the Power Functions system, and there are various possibilities of motorizing switch points or even the stations. Somewhere along the way, I will also publish a tool for designing Monorail networks, which I already have partially working.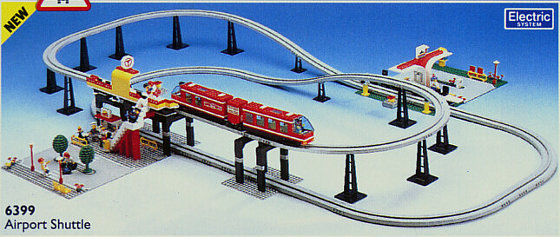 One of the must-build models of 2011 will be a new tank: this time a South Korean K2 Black Panther, which is probably the most advanced tank currently in service. As I have mentioned last year, it will be in many ways a continuation of the ideas and solutions tested in my Leopard 2 model, and I will certainly be trying to take these ideas really far. After the K2, I have no plans for modelling regular tanks – instead, there's the M2 Bradley on my list. Before or after the Bradley, I will be putting together am overview of all my tanks built so far, because my 'tanks line' seems to be exceptionally good at showing progress, development and evolution of my building techniques and other skills.

I have started this year with a classic 'American big rig', but I'm not done with the subject yet. Next in line will be the Kenworth T900 in a Road Train configuration, including multiple trailers and the mighty 'kangaroo deflector'. I don't want to build this truck anytime soon though, because I feel that the more I wait, the more different it will be from the previous truck (a rule that applies to tanks too). Additionally, it definitely won't be black, to avoid looking to similar to its predecessors – the most probable alternative colours include yellow and red.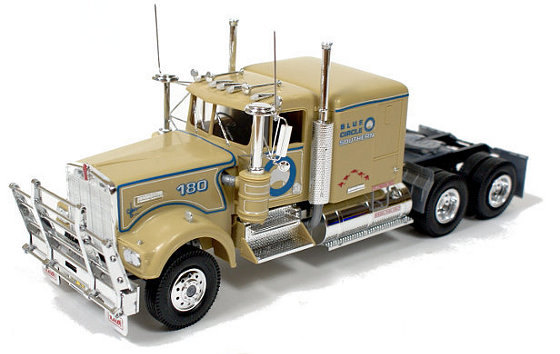 I haven't build any Liebherr model since early 2009, and I feel I have neglected a very inspiring brand. I would like to finally build a Liebherr mobile telescopic crane model, one I have been planning for quite a while. I'm not sure if I will have enough time for that this year though, and even if I do, the model won't be anywhere near the complexity level of my recent Tow Truck 2. It's much more likely that I will manage to build a small, simple model of a Liebherr R944C tunneling excavator, a very unusual machine that I would love to try inside my freezer. I also want to try a different building approach with it – I want it to be powered mainly by pneumatics connected to an external controller. This is perhaps an odd idea in the Power Functions age, but it will keep the model small, at the same time letting me to get a good feeling of the pneumatics that is only possible with the manual control of the valves. Additionally, it will be a nod towards how Technic models used to be built, and I enjoy the idea of controlling a model the way Jennifer Clark controlled hers – even despite the fact that the model won't be even remotely as fascinating as hers 🙂

I would like to use this year to gain more experience in the areas I haven't ventured much into before – including the are of walkers which I have barely touched with my first, very simple construction. I feel that trying to follow the natural movements of animals rather than the movements that are mechanically easy to carry out is the right direction, and I want to explore it further. Currently my attention has been brought to the crabs and the fascinating ways in which they move. I believe that a crab-like chassis will produce not only an interesting mobility, but also a stable platform for something a bit larger and heavier than before – it would be nice, for instance, to build a crab-like walker with a military-styled body.
Finally, as usual, I have some secret experimental projects up my sleeve, and I hope to surprise you with results, should they turn out successful. I am also more than likely to indulge my tendency to build something that was not planned every now and then. 2011 seems like another year of struggling between plenty of ideas and shortages of time to make them real, but I genuinely hope that the ideas I manage to make real will be interesting enough, and that I will learn from both successes and failures. Stay tuned and enjoy!