Press, double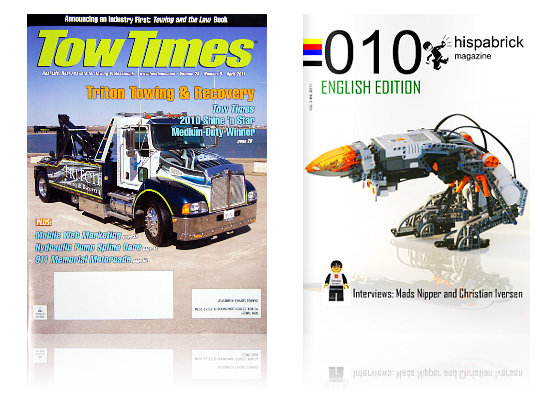 Two press magazines have released materials concerning my models and my publications.

I rarely have the opportunity to see my name pop up in press, and over the course of the few last days I had it twice. First, the Florida-based Tow Truck magazine has included an article on my Tow Truck 2 model in its April issue. The article can be found on page 48. I can't copy it here for legal reasons, but you can always try and buy the magazine. The article does a great job on introducing readers to the hobby of building models with LEGO pieces, but if you have read about the Tow Truck 2 at my website, you're unlikely to learn anything new. Still, I'm sure it will be something new and unexpected to the Tow Times readers, and perhaps some of them will be even interested in the hobby.
Secondly, the Hispabrick magazine, which is a serious and renown magazine on all things LEGO-related included the first part of my scaling tutorial for vehicles. The content of the tutorial is identical with the one at my website, but the Hispabrick crew pulled out a great job making it more print-friendly than I did. The tutorial starts at page 38 and you can read the whole magazine here. I'm sure you will find both magazines interesting.