4-speed Sequential Transmission With Stepper Shifter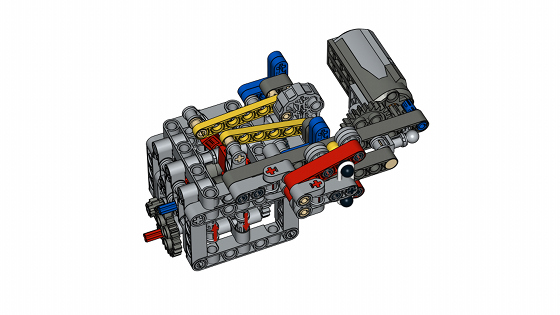 A 4-speed sequential transmission with comfortable remote control mechanism. Instructions available.
This design is a development of my earlier 4-speed compact sequential transmission which could be shifted remotely using just a single motor. The problem with the older design is that shifting was slow and required some precision, and because of it it was not possible to shift while driving. This design uses a stepper mechanism to solve all these problems.
Just like the older version, this transmission can be shifted by any motor, in any direction, and in full cycle – from 1st speed to 4th and back to 1st – but when shifted by a PF M motor, it's fast enough to shift while driving, without stopping. Additionally, it's easier to control because one rotation of the shifting motor changes speed by one and you can hear every rotation. The older design can still be useful when precision and fast shifting are less important and when its smaller size can be an advantage.
Just like before, the input and output shafts go through the whole transmission, so they can be connected from the front or back of the gearbox – or even from both sides e.g. if you need to drive two axles, with transmission located between them. The transmission is also braced with studless frames and can handle plenty of torque, and it's highly effective. This is because the higher the gear, the fewer active gear wheels are being used, which allows a single PF M motor to run this transmission on 4th speed without much strain. The gear ratios produced by the transmission range from 5:1 reduction at 1st speed to 1:1 at 4th speed. It was designed specifically for gearing down – first three speeds gear the driving motor by varying degrees and the highest speed offers unchanged gear ratio.
This is the best transmission I've designed up to date and I hope it will see a lot of use, and not just from me.
Free building instructions for the transmission and for the stepper mechanism alone are available in the Downloads section.
The stepper mechanism alone: