4-speed Compact Sequential Transmission v1.1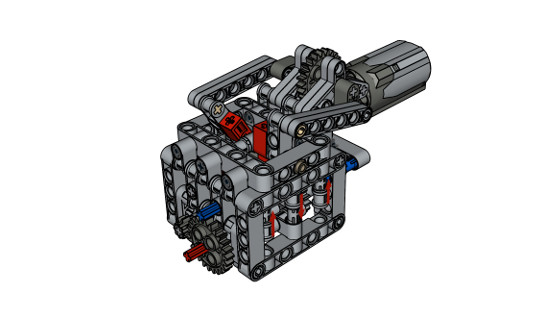 An improved version of my 4-speed sequential transmission controlled remotely by a single motor: smaller, stronger and much more effective.  Instructions available.
A short while ago I've designed a compact 4-speed sequential transmission that could be controlled with just a single motor, and while it was in many ways better and more practical than most of my other transmissions, it wasn't perfect. Its primary problems were being tall and generating plenty of friction on 3rd and 4th gear. It took me a while, but I managed to solve both problems, creating a transmission that is much more effective while also being smaller and stronger.
Just like the initial version, this transmission can be shifted by any motor, in any direction, and in full cycle – from 1st speed to 4th and back to 1st. The "core" mechanism is just 7x7x6 studs big, plus the shifting mechanism which isn't too large either. The transmission was designed specifically to be narrow and low, so it can be placed between stringers of your chassis easily – they need to be only 7 studs apart. The input and output shafts go through the whole transmission, so they can be connected from the front or back of the gearbox – or even from both sides e.g. if you need to drive two axles, with transmission located between them.
Aside from the size and very robust structure which allows it to handle plenty of torque – in fact, the transmission should withstand any stress until the breaking point of the driving rings – the main advantage of this design is low friction, which makes it very effective. This is because the higher the gear, the fewer active gear wheels are being used, which allows a single PF M motor to run this transmission on 4th speed without much strain.
This is the best transmission I've designed up to date. It's much more practical than any other of my designs, being effective, easy to control and requiring little space in the model. I hope you will find it useful.
Free building instructions for the transmission are available in the Downloads section.