4-speed Compact Sequential Transmission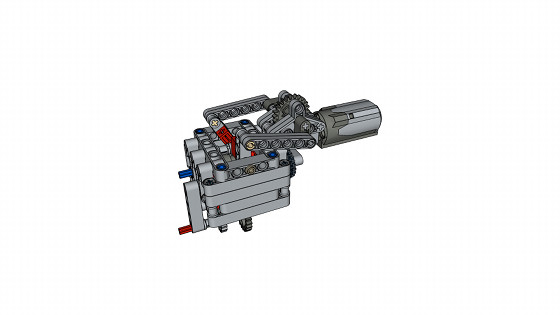 A 4-speed sequential transmission controlled remotely by a single PF M motor.  Instructions available. Update: instructions replaced with new, improved version.
Many of my transmission designs aren't very practical – they are either very large, very complex, or require a control system that is complicated, inconvenient to use, and involves many expensive motors. I wanted to develop a design that would address all these issues and this is the result.
This transmission is pretty small, robust and except for the driving rings and catches it is build entirely with basic, common pieces. The 4 speeds offer gear ratios from 5:1 to 1:1 and can be selected by a PF M motor – which can be replaced by essentially any other Lego motor. With many advanced sequential transmission designs floating around, my goal was to strip this one to bare minimum – hence no PF Servo motor, no stepper mechanism, no rubber bands or steering links, literally nothing fancy. The shifting is done in a full cycle, meaning that the transmission can be shifted through speeds 1 to 4 and back to 1 again, or in the opposite direction – there are no "ends" of the cycle. A worm gear is used for shifting to ensure precision and to keep the driving rings locked against torque at all times. The entire unit is somewhat tall, but I specifically kept it just 7 studs wide for easy integration into chassis, between the stringers.
The lack of a stepper mechanism of any kind means that shifting requires some attention – but it can be done perfectly well just by ear, as the 3L driving rings shift with loud, clear "click". Two "clicks" mean that another speed has been successfully selected. This may prove insufficient with models that are loud, or are meant to work at some distance from the operator. Another disadvantage is that 3rd and 4th speeds add plenty of friction because of how the gears are arranged – enough to slow down a single PF L motor, but not a PF XL one.
All in all, I count this transmission among my most practical and useful designs. It's not a perfect solution, but it has a long list of advantages and it suits the needs for which I've developed it perfectly. It is a good demonstration of the advantages of simplicity, also known as KISS principle (Keep It Simple, Stupid).
Free building instructions for the transmission are available in the Downloads section.