4-Speed Servo RC Transmission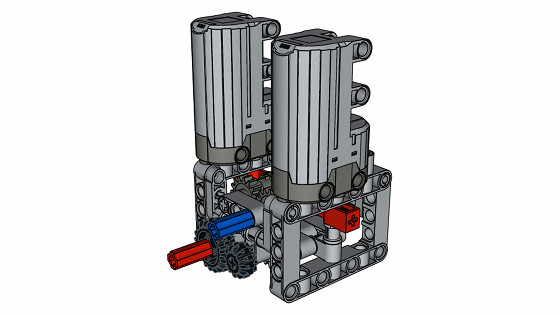 A 4-speed transmission using new pieces, controlled remotely by two PF Servo motors.  Instructions available.
This transmission is a fairly typical 4-speed transmission, except that it's using the new 2015 transmission driving ring and two PF Servo motors for remote control. It can be modified for use with the older transmission driving ring, too. Its important characteristics is that it does not stall the motors, allowing them to rotate full 90 degrees in both directions. It thus allows to shift very quickly and without any risk to the motors.
The main advantage of this design is fast and comfortable shifting. The disadvantages, besides the obvious need for two PF Servo motors, is the fact that the transmission driving rings aren't held in position when engaged by the transmission changeover catch, and the fact that shifting with the basic PF remote requires holding a lever. As the video below demonstrates, this can be made relatively comfortable by combining two remotes in certain way, or by using the PF speed dial remote which works with this transmission perfectly well.
Free building instructions for the gearbox are available in the Downloads section.