Model Scaler Tool updated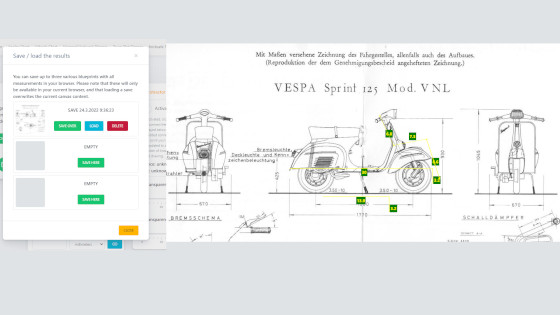 My Model Scaler Tool for AFOLs has received a couple of new functionalities.
Following the recent overhaul of my online tools for AFOLs, I have updated the Model Scaler Tool with three additional functionalities:
the images can now be uploaded directly from your device, not just from URL addresses of online images
the protractor tool now draws diagonal lines; when you place two points, they will be connected by a line, and then if you place another point, it will be connected to the second-last point by another line. This allows you to draw an infinite chain of diagonal lines, each of them with length shown and the latest line also has its angles shown. In order to prevent these lines from clogging up the image too much, there are two sliders that control transparency of lines and their labels (except the one latest line and label), and they can be set to 0, effectively hiding them.
you can now save your images, drawings and measurements in your web browser, then load them and continue working on them. The Save/Load button in the upper right corner grants access to three slots that can be used for three separate saves. Each save will hold anything you draw on the canvas, all the measurements, the calculated scaling ratio and even the colors you set up. If you used image from a URL address, not from your device, the image will be included in the save too. Please note that the saves are stored on your device and that they are specific to a browser, meaning that there is no way to transfer them from one device to another, or even from one browser to another on the same device.
The tool continues to be available at scaler.sariel.pl