Walking Mini Cooper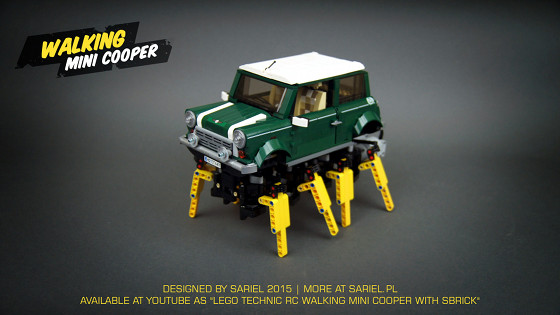 My second modification of an official LEGO set – the LEGO 10242 Mini Cooper walking on eight legs.
Datasheet:
Completion date: 18/01/2015
Power: electric (Power Functions)
Dimensions: length 35 studs / width 20 studs / height 25 studs
Weight: 1.064 kg
Suspension: none
Propulsion: 2 x PF L motor geared 8:1
Motors: 2 x PF L motor
After I have equipped the body of the Lego 10242 set with tracks, I removed the tracks and chassis but kept the body intact. For a while I was wondering what else I can do with it before I strip it down once and for all. At some point I got curious if my old simple walking mechanism could carry it, and how stable it would be.
Building this model was fairly easy: I took the mechanics from my Octopod walker, strengthened and slightly widened its torso, and reworked legs to make them spaced closed together and thus fitting under 10242's body, and to make them operate at angles better suited for carrying weight. The 8878 PF battery ended up inside the trunk, and SBrick was installed behind driver's seat. I also kept the front Lego LEDs that were there since my previous 10242 modification.
In the end, the model proved to perform way beyond my expectations. The modified legs made it extremely stable – there was some bobbing up/down involved, but no sideways movement under any conditions – whether going straight, making a turn, or turning around in place. Thanks to the reinforced torso and to the use of PF L motors, it was also able to move at similar speed as my original Octopod, despite being more than twice as heavy. The SBrick performed fine and allowed fine control over the walking direction, as I was able to precisely control speed of each of the two motors.
It was a very funny model to watch and to play with, and it demonstrated how much performance of a walking mechanism is affected by the geometry of its legs. Just a few changes made it much more stable than the initial version, and capable of carrying impressive load. I only wish I could make a really fast walker, but given the complex forces acting on its legs and torso, this seems unlikely to achieve with Lego pieces.
Photos:
Video:
Media coverage