Land Rover Defender 90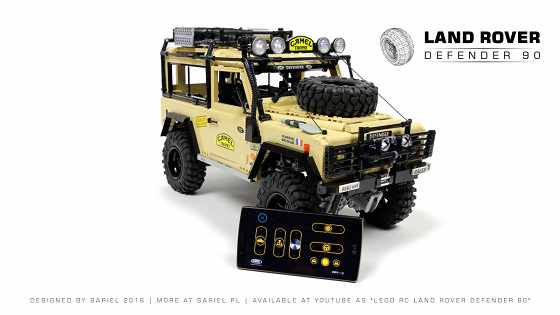 Model of the legendary Land Rover off-road car. Features 4×4 drive, steering, 4-speed transmission, live axles suspension, remotely locked central and rear differential, working turn signals, lights and custom stickers.
Datasheet:
Completion date: 31/04/2016
Power: electric (Power Functions)
Dimensions: length 59 studs / width 28 studs / height 35 studs
Weight: 3.24 kg
Suspension: live axles
Propulsion: 2 x PF XL motor via a 4-speed transmission and central differential
Motors: 2 x PF XL motor, 1 x PF L motor, 2 x PF M motor, 1 x PF Servo
I wanted to build model of the iconic Land Rover Defender for a long time, especially seeing as 2016 is the year it finally went out of production. The Defender version of the Land Rover was launched back in 1983, and if I was born one week later, we would have been peers, hence some sentiment on my end 🙂
The original Defender is nothing short of a legend and anyone involved in off-road driving even remotely knows this car pretty well, so I'll skip an introduction. I have chosen the 90 version over the 110 one to reduce the weight, and also simply because the shorter chassis was enough to fit everything I wanted to fit. The basis for scaling my model were Rock Crusher X/T 1.9″ tires by RC4WD, put on regular Lego rims. Along with the tan body, these tires made it perhaps my most costly Lego model so far. Ironically, just as I was finishing the model, Lego has released the 42054 Claas Xerion set with tires basically the same size…
On the technical side the chassis consisted of two live axles connected to the front and back of my sequential 4-speed RC transmission. The transmission was connected to the driveshaft via a central differential which could have been locked remotely using pneumatics – along with the rear axle's differential. The front axle lacked from insufficient room, as demonstrated by the PF Servo motor, and its differential couldn't be locked. The front and rear axle had their shock absorbers set up differently, with the rear axle being harder to support the rear-heavy body. To help with the weight distribution, I've placed a spare wheel on the hood rather than on the rear door – but it could be installed there as well. The entire model was propelled by two PF XL motors powered by just a single 8878 battery, on assumption that with huge gear reduction and 2 SBricks it would be just enough. And it was – but sometimes, when negotiating a particularly difficult obstacle, the model's LEDs would go out for a moment. The two XL motors were hard-coupled using knob gears and connected to the transmission which was shifted remotely using one PF M motor.
During the build I have created and tested a mechanism that would allow to adjust the front and rear ground clearance independently. However, it added a lot of weight and complexity while changing the clearance effectively by no more than 2 studs and being impossible to fit under the hood, so I've abandoned it. Instead, I have used the room under the hood to add a single PF L motor driving a front winch, which was also remote-controlled and geared down to match the model's driving speed at 1st gear. As the video demostrates, the winch proved very useful, especially since it was built into the model's frame and thus it could handle plenty of stress without ripping the front end of the body apart. The remote control was possible over Bluetooth using two SBricks, which also controlled the roof & bull bar  lights, as well as left and right turn signals which worked using SBrick's sequences.
I was rather happy with the aesthetic side of the model, although the taillights weren't too accurate – seeing as they looked different in different Defender variants, I just went with a rough approximation. The model also had no actual interior except for a steering wheel (non-functional) and the rear view mirror – its center was occupied by the transmission and a whole lot of wires, and its sides by the 8878 battery and two SBricks. I would be probably able to add interior to a Defender 110 model, given the extra length, but at the cost of significant additional weight.
The model did OK outdoors, but it was evident that its power-to-weight ratio was low – with each PF XL motor handling well over 1.5 kg it was just slow. Moreover, the soft front suspension and the tall rear end of the body resulted in poor stability when driving down a sleep slope (in other words, they proved an excellent recipe for roll-overs). I'm pretty sure this model wouldn't come close to winning any TrTr race, but at least it looked nice. The custom tires also proved to handle the significant weight better than I expected, ensuring great traction and low rolling resistance.
Work in progress photos:
Photos:
Video:
Media coverage:
AutoRevue (German), Cool Material, DrivR (Dutch), DriveSpark, Freshness, Ganlob (Indonesian), Highsnobiety, HobbyMedia (Italian), HiConsumption, Hypebeast, Jae's Wanderlust, KlonBlog (German), LandMag (French), Le Fein, Mandesager (Danish), Material Actual (Spanish), MotorBlock (German), StupidDope, The Awesomer, The Lego Car Blog, Want (Dutch)