Amphibious Mini Cooper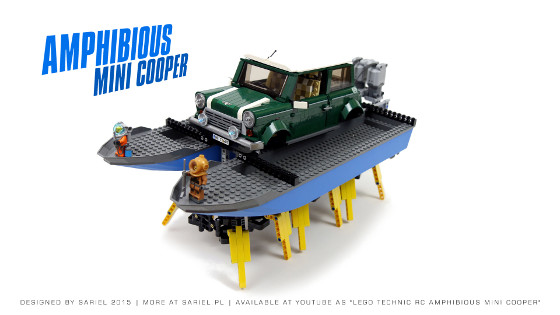 A walking/floating mod of the Lego Mini Cooper set. Features 12 moving legs and 2 propellers for movement in and out of water.
Datasheet:
Completion date: 12/12/2015
Power: electric (Power Functions)
Dimensions: length 64 studs / width 30 studs / height 32 studs
Weight: 1.764 kg
Suspension: none
Propulsion: 2 x PF L motor geared 1.66:1
Motors: 2 x PF L motor
I have a history of modding the Lego 10242 Mini Cooper set, first with a tracked and then with a walking version. For a while it seemed like I couldn't come up with any new mod, as making the Mini simply float on water was just too simple. Then I realized that my walking chassis is technically waterproof if driven by motors located above the water, and next the natural step was to install that chassis under some boat hull with the Mini Cooper on top of it.
My first choice of the hull was that from the Lego 60095 Deep Sea Explotation Vessel set because it looked really fitting with the Mini on top, but unfortunately it proved unable to support the weight of both the Mini and the walking chassis. I have therefore ended up using two #54100 hulls which didn't look so well. The resulting vehicle was pretty heavy and the walking chassis was on the very brink of its load capacity.
Despite its crude, simple construction and generally wacky concept, the vehicle proved to work as expected – when tested in gradually filled and emptied bathtub, it could go from walking to floating and back seamlessly. It was pretty sluggish when floating due to two small propellers, but it remained perfectly stable and controllable at all times.
Photos:
Video: