Catbuster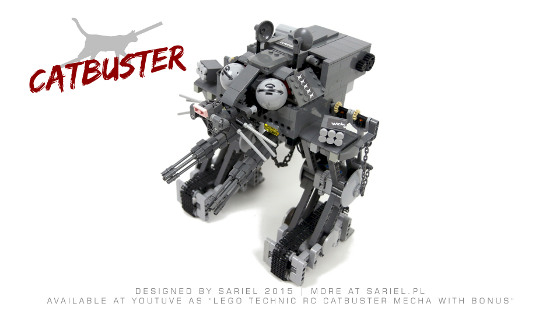 Wacky hamster-like mecha. Features drive, legs that allow sitting down or standing up, moving nose, whiskers and ears and remotely-fired anti-cat cannon.
Datasheet:
Completion date: 11/12/2015
Power: electric (Power Functions)
Dimensions: length 31 studs / width 27 studs / height 34 studs (when standing upright)
Weight: 0.995 kg
Suspension: none
Propulsion: 2 x PF L motor geared 5:1
Motors: 3 x PF L motor, 2 x PF M motor, 2 x Micromotor
This creation was intended do celebrate my YouTube channel reaching 75,000 subscribers milestone, but due to variety of reasons, including the reviews of the 1H 2016 LEGO Technic sets, it was long overdue. It was pretty simple technically and crude aesthetically, intended to be wacky and mostly evoke laughter.
The mecha was built on two legs that used double parallel linkages to allow knee-like movement. This way, it was possible to sit down or stand up by just rotating the upper part of the legs. The propulsion system, which consisted of one PF L motor enclosed inside each foot, driving a track wrapped around it, remained functional at all times. Due to the rear-heavy mecha's upper body, small wheels were added at the back of the feet to prevent falling backwards while standing up. Thanks to these wheels, the mecha was pretty stable despite being top-heavy – I wasn't able to come even close to knocking it over, no matter what I drove it on. The legs raising mechanism, however, was pretty close to its capacity limit, struggling to make the mecha stand up – and in fact it was my second version of it, as the first one, using a single PF XL motor and worm gears, proved too weak to handle mecha's weight.
The simple body included a single PF M motor driving cams that moved the two sets of whiskers and a nose in front, as well as two Micromotors rotating one ear each. The Micromotors weren't synchronized because it amused me that one was going slightly faster than the other, adding to the wackiness factor of the whole creation. The mecha was equipped with two guns in front, which were static and added mostly to balance it to be more front-heavy, as well as with a single remotely-fired LEGO spring cannon hidden under a plate on top of the hull. A single PF M motor would raise the plate and fire the cannon, then close it back. The cannon was named "Curiosity", as it was specifically intended against cats 😉
I was expecting this creation to be a major disappointment, but it has received a surprisingly warm reception. Apparently it made up for its many shortcomings by its general wackiness. It had several solutions that could be interesting on the technical side, such as linkage in the legs and cams in the nose/whiskers mechanism, but mostly proved to be source of amusement, as intended.
Photos:
Video: