BJ Baldwin's trophy Truck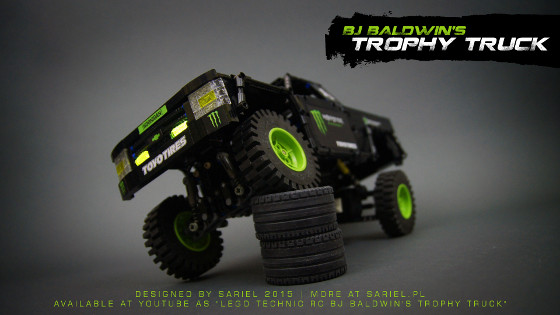 Model of one of the trucks used by BK Baldwin for racing. Features RWD, steering, suspension, lights and custom stickers.
Datasheet:
Completion date: 07/06/2015
Power: electric (RC unit)
Dimensions: length 49 studs / width 21 studs / height 23 studs (not including antenna)
Weight: 1.374 kg
Suspension: front – double wishbone, rear – live axle
Propulsion: 2 x RC motor directly from slower output
Motors: 2 x RC motor
For a while now I had the urge to build a proper, realistic trophy truck: especially since my first attempt at this kind of vehicle looked terrible, and my model of a Baja Truck, technically a very similar vehicle, was based on a quite unusual-looking car. At the same time I was very fond of the lime rims released in the LEGO 42037 Formula Off-Roader set, and I was looking eagerly for some model to use them in. This seemed difficult at first, as all LEGO tires that fit this particular rim look nothing like proper trophy truck's tires. At one point I was considering custom 1.7″ tires, but they were rather expensive and I had no idea if they would actually fit the rims (in theory, these tires are 0.8 mm too large). Eventually I've discovered that these rims can work reasonably well with the well-known oldschool 24-43 Technic tires which look very trophy truck-ey, provided that a strip of paper is wrapped around the rim. With this really good-looking rim/tire combination, I set out to complete the entire model.
For me, this model was a leisure build between more demanding projects, so I have assumed right at the beginning that it won't be my best-looking nor fastest car. Instead, I chose to focus on its suspension. I have connected the two RC motors to the chassis using a single suspension arm and a towball pin, and secured this connection with two steering links. This has effectively turned the two motors into a proper live axle, with great range of movement. I have completed the suspension with two double wishbones in the front, each suspended on two dark-gray shock absorbers. The steering was controlled directly by the LEGO RC unit, with the front axle attached to its front. The unit's auxiliary output was used to power two pairs of LEGO LEDs which lit up lime light bars in the front grille.
The resulting model had very soft suspension with plenty of travel, which made me worry about the stability, but I was hoping that the model's center of gravity would be low enough to keep it stable, thanks to the RC unit with batteries and the motors being located at the very bottom of the body, and the upper part of the body being thin, light and completely empty. As practice demonstrated, the model was affected by some stability problems, but it could be kept stable most of the time and it had no problem negotiating rough terrain. Being 250 grams heavier than my first trophy truck and yet equipped with the same propulsion system it was just agile, while the earlier model was all but flying. Seeing how much increased weight affects the performance, I decided to keep the cabin completely empty lest the model be even heavier.
The model was fun to drive, with decent acceleration and enough power to drive over a little gravel and shallow sand, and even to climb gentle earthen slopes. Its steering system, however, was suffering from certain backlash that made driving perfectly straight pretty much impossible, and one of the front wheels made it worse because of the tire which had tendency to come off. It was necessary to adjust it again and again, and I could see no good solution seeing as these tires are completely smooth on the inside.
The model's look was far better than that of my first trophy truck, yet not too accurate. I have ignored curved mudguards typical for trophy trucks and I also believe the body was too narrow. In general, the model seemed too tall and too boxy, and it ignored some of the livery of the original truck. BJ Baldwin has driven a number of trophy trucks in his career, each with slightly different livery, and while some of them have indeed been all black, just like my model, the most recent ones have been part black, part white.
All in all, this model was an experiment that taught me how much soft suspension can affect stability, and how weight-sensitive the RC motors are.
Work in progress Photos:
Photos:
Video:
Media reference: