Baja Truck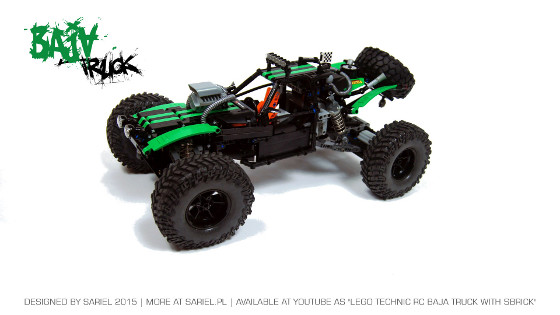 My first SBrick-controlled model. Features advanced suspension system.
Datasheet:
Completion date: 11/01/2015
Power: electric (8878 battery)
Dimensions: length 60 studs / width 33 studs / height 25 studs
Weight: 1.795 kg
Suspension: front – independent with positive caster angle / rear – live axle
Propulsion: 2 x PF XL motor, directly on rear wheels
Motors: 2 x PF XL, 1 x PF Servo
I've been thinking of building some generic baja/trophy truck for a while, especially since my first effort at a trophy truck turned out extremely ugly, and then somebody has shown Twin Hammers model to me. It was very inspiring, and I instantly liked the look and the sophisticated rear suspension system.
This model was designed as a simple test platform for the commercial SBrick version, for the custom Baja Claw TTC tires, for advanced suspension, and I also wanted to see what the 42039 set's medium green pieces would look like when combined with black. To this end, I wanted it to be fast and propelled by a pair of PF L motors driving the rear wheels directly, but the enormous wheels proved to require PF XL motors instead. This meant the model was slower than intended, but it was still pretty agile and negotiated rough terrain with ease.
The suspension used four 11.5L adjustable LEGO shock absorbers, which proved crucial because their both ends can pivot. This allows mounting the shocks at complex angles, and it made the rear suspension possible. The suspension design, picked straight from the Twin Hammers, relied on a live axle connected to the chassis by four links forming the shape of W when seen from vehicle's front. The inner links were simply Lego 9L steering links, while the outer links were much tougher and build with Lego suspension arms. Just like in the Twin Hammers, two shock absorbers were connected not directly to the rear axle, but to the outer links, near their middles. Lacking a driveshaft that would connect it to the chassis, the rear axle had a very little backlash left/right, but it had no observable impact on performance nor stability. The resulting rear suspension had immense travel and was reasonably soft and responsive.
The front suspension was a typical independent suspension, built with Lego recent steering hubs and with suspension arms made wide enough for the thick 11.5L shock absorbers to go through the middle. My hopes for speed were reflected by a positive caster angle, which was achieved in a very simple way, as I wanted the front suspension to be as robust as possible: the entire front suspension was built as a standalone module, and connected to the chassis at angle. Two universal joints connected it to a PF Servo motor, which was sitting behind the front suspension, aligned with the chassis.
With drive motors integrated into the rear axle and steering motor sitting close to the front one, I kept the body small, installing a standard PF battery box and one SBrick at the back of a small single-seat cabin. The resulting car was stable, with robust body, designed for bumpy ride. The tires performed splendidly, and the suspension proved to be very likely the best I've built so far, thanks to the long shock absorbers. There was also a huge difference in how the suspension behaved with all shocks in hard setting, so I kept them soft for most of the time (and for the entire video). The model was nothing special, but it was a pleasure to see it handle obstacles, and my only disappointment was the top speed.
As for the SBrick, it performed without problems and I did not experience any issues with range, even at distances of around 20 meters. I have experienced some discomfort from steering with a smartphone, though. First, it wasn't easy nor intuitive to control the model with a flat touchscreen which provided zero tactile feedback, unlike even simplest Lego or RC remotes. It was very often necessary to look either at the screen or at the model to see where controls were at a given moment. Additionally, cold weather made it difficult to keep fingers exposed for prolonged periods of time, although my smartphone provides a "glove mode", which I have not tested yet. Second, every time I woke my phone after putting it into pocket for a moment, I had to wait for it to reconnect with the SBrick. This was perhaps a software issue that will be fixed in the future, but every time there was annoying period of time, of varying length, during which the model remained totally unresponsive to commands. Still, this seemed like something that could be solved or circumvented, or less noticeable under more favorable conditions.
Work in progress photos:
Photos:
Video:
Media coverage: