Volvo FH12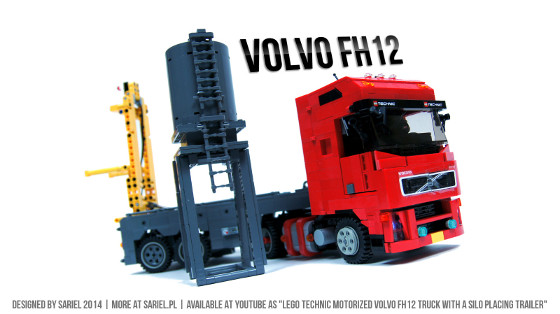 Small model of a Volvo truck with a silo placing trailer. Features drive, steering, elevated silo bed, lights and custom stickers.
Datasheet:
Completion date: 10/05/2014
Power: electric (Power Functions)
Dimensions: length 57 studs / width 14 studs / height 19 studs
Weight: 1.377 kg
Suspension: none
Propulsion: 1 x PF L motor geared 1.4:1
Motors: 2 x PF M, 1 x PF L
Volvo FH12 truck is well known and popular among LEGO builders. I never had an opportunity to build a Volvo truck before, and decided to give it a try with the classic Model Team wheels which imposed a rather small scale (two thirds of that of my usual trucks). I also wanted to build a truck with an actual windshield rather than just empty space between two posts.
It was clear from the beginning that the model would need a trailer, because the truck was very front-heavy and the rear axle's traction was horrible. I've spent quite a while looking for an interesting, unusual trailer, until I finally found one that featured a silo placing unit. Since I wanted the trailer to be functional and remote-controlled, I decided to connect it to the truck permanently – this way it could be powered from its battery and controlled via PF IR receiver inside its cabin.
As for the looks of the model, my goal was to make it look as non-Technic as possible, by concealing every single bit of mechanic and electric elements. This included, among other things, orienting the PF IR receivers so that they poked out of the cabin's rear wall rather than out of its roof. I spent a lot of time working on plenty of authentic details, but failed with some – most importantly, I was unable to make rear mudguards for the front wheels, because the ones I made were either too big or too fragile. I have also struggled with the custom see-through sticker on the front grille, which didn't turn out so great, and in the end I think the model could have used a few more custom stickers.
Mechanically, the model was really simple and focused on using the sparse space available in the most efficient way. The truck had no body frame to speak of, for instance, but was literally held together by the PF L motor. The rear differential had no typical 5×7 frame around it because it was too big – instead, it was attached to the PF L motor with a few simple connectors. There was no PF Servo motor, just a PF Medium motor with a spring-loaded LEGO hockey connector for return-to-center steering. The cabin had the 8878 battery inside it, laid flat and with its top facing backwards, which allowed to put a simple on/off switch on the cabin's rear wall. There were also two PF IR receivers facing upwards in the upper rear part of the cabin – this not only kept the roof clear, but also made sure their LEDs didn't show behind the windshield. The cabin's doors could be opened, but there was no interior whatsoever – just some free space behind the windshield, with wires crammed into it.
The model had a number of shortcomings – the silo, for instance, was about two-thirds of the correct size, but it was the largest size that allowed me to make it perfectly cylindrical. The front wheels were turned along a wide arc, because they were 2 studs away from their pivots. To move them closer, a more complex tie-rod would be required, and there would be no space for return-to-center function. This was an important issue, because fixing this would make the truck turn more smoothly and would allow to make the front mudguards tighter, so I may need to find a solution for it in the future. Finally, the rear axle had occasional traction issues even with the trailer attached , and the model was rather sluggish. Sadly, there was no space for any gearing between the differential and the PF L motor. Still, it was my first truck at such a demanding scale and it gave me some valuable experience.
Work in progress photos:
Photos:
Video:
Media coverage: