Mercedes-Benz Tankpool Racing Truck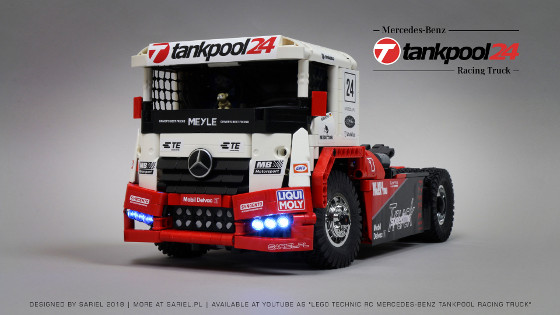 Model of a Mercedes-Benz racing truck built for speed. Features suspension, drive and steering, lights, working steering wheel and custom stickers.
Datasheet:
Completion date: 06/10/2018
Power: electric (BuWizz 2.0)
Dimensions: length 45 studs / width 18 studs / height 19 studs
Weight: 1.355 kg (1.535 kg with camera on board)
Suspension: front – independent with positive caster angle, rear – none
Propulsion: 4 x RC motor geared 1:1.66 from faster output
Motors: 4 x RC motor, 1 x PF Servo
A simple model built in just 3 days after I've walked through a park and thought that it would be cool to film something fast driving through fallen leaves in slow-motion. I've started playing with some pieces to see if I can build a cabin similar to that of a Mercedes-Benz truck featured in Forza Motorsport games, and the rest of the model followed so quickly that I didn't even had time to take any work-in-progress photos.
The model was meant primarily as a follow-up on my Tatra Dakar Truck model. The Tatra had nice speed and good steering, but it lacked stability and was pretty fragile. At the same time, my Ford Raptor Trophy Truck model has demonstrated how weight-sensitive the LEGO RC motors are, so I wanted to keep the weight low, and I didn't care too much about aesthetics because my Scania Racing Truck has already been built to look pretty and it ended up being heavy and slow. Considering all these experiences, I've decided that my goal should be a fast model with robust body, kept as simple as possible to preserve low weight. Mechanical complexity and accurate looks were of secondary importance.
As a result of these priorities, the truck was fairly simple and looked somewhat different from the real one. Among others, I've added headlights inside the front bumper and angled supports behind the cabin (inspired by the Iron Knight truck), I made the cabin white because I liked this combination of colors more than with a light gray cabin, and I've stretched the chassis by 2 studs to make room for BuWizz units behind the front axle. The stickers combined livery of the in-game truck with parts of livery from the real truck (which changes from race to race) and with addition of some "sponsor" logos featuring BuWizz, RC4WD and my own logo. I've also omitted real truck's rear mudguards because I liked how the tires looked and preferred to leave them exposed, and because such mudguards would have to be either fragile or ugly.
The chassis consisted literally of a bunch of motors squeezed between two axles. Four Lego RC motors were hard-coupled with their faster outputs and placed horizontally in front of the rear axle, in order to lower the center of gravity and put more weight on the rear axle. The rear axle was driven using a pair of knob gears, without a differential, with a 1:1.6 gear ratio. I've tested a 1:1 ratio and while it provided a greatly improved acceleration, the top speed wasn't that good. The rear axle was fixed, with no suspension at all, because in real racing trucks the rear suspension doesn't do much anyway, and because this way I could keep the drivetrain simpler and the chassis shorter and much stronger. The front axle featured a standard double wishbone independent suspension, with short travel and hard shock absorbers, made even harder by limiters that didn't let them extend more than to roughly half. Thus the shock absorbers were pre-stressed and it took more stress than usual to make them retract. The front suspension's steering arms were placed deep inside these rims, just like in my Tatra Dakar Truck, because I've noticed that this way they provide pivot close to the center of the wheel, which in turn ensures smoother steering and drastically limits the model's tendency to veer left or right, which is often observable at large speeds when pivot is far from wheel's center and which is caused by backlash in the steering links. Unlike the Tatra truck, the Mercedes also features subtle positive caster angle, which seemed to further improve the steering system's performance. To reduce the backlash to a minimum, the PF Servo motor controlling steering was built directly into the front axle and tilted together with it. The truck proved very stable, it never rolled over and sharp turns at approximately 15 km/h led only to the rear axle slipping sideways. Additionally, there was a simple steering wheel in the cabin, which rotated together with the PF Servo. All wheels were fitted with 1.2″ Dirt Grabber tires by RC4WD which provided much better grip (and looks) than LEGO tires would.
As for the speed, I believe that under certain conditions it could have exceeded 20 km/h, but these conditions weren't easy to meet. First, because of the low-acceleration/high-top-speed gear ratio the truck required a long road to develop high speed, and second, the two BuWizzes struggled to power the RC motors after a few minutes of driving. It was also challenging to control the truck near top speed, as any change of direction would happen very quickly and also slow the model down. In fact, most of the video was shot at below than full speed. I kept the BuWizz units working in the fast mode which provides 9.2V – I was concerned that the 11.2V mode could damage motors and the power was quickly running out anyway.
To sum it up, while I realize that using large numbers of motors isn't an overly ambitious solution, it was fun to have a model this heavy speeding so fast, especially when combined with smooth, responsive handling, great stability and decent looks. Still, I'm not sure if the BuWizz potential was fully realized here.
Photos:
Video:
Media coverage: