Tatra Dakar Truck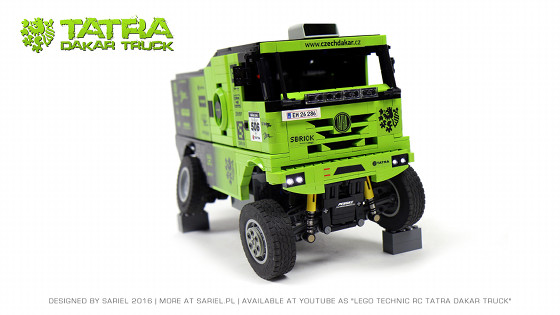 Model of a Dakar Truck based on Tatra T815 4×4. Features drive, steering, full suspension and custom stickers.
Datasheet:
Completion date: 27/09/2016
Power: electric (Power Functions)
Dimensions: length 37 studs / width 16 studs / height 24 studs
Weight: 1.273 kg
Suspension: front – double wishbone independent /rear – live axle
Propulsion: RWD, 2 x LEGO RC motor geared 1:1 from the faster output
Motors: 2 x LEGO RC motor, 1 x PF Servo
I'm a big fan of the Lego lime green color, so when I came across photos of a Tatra T815 4×4 Dakar truck in a beautiful lime/black livery, I just had to build it. It was also a good opportunity to test the performance of Lego RC motors when powered through SBricks.
The model was built at small scale, as low weight was my priority. It was propelled by two hard-coupled Lego RC motors whose faster outputs were used as the rear axle. The two motors were mounted on a ball joint, effectively creating a live axle rear suspension. In the middle of the chassis were two 8878 Lego batteries with a pair of Lego LEDs connected to each – this way the truck's headlights acted as indicators of which batteries were turned on or off. On top of the LEDs' plugs – to avoid adding more wires – were the SBricks, one per each battery. Between the batteries was a PF Servo motor controlling the front axle which used standard double wishbone independent suspension.
The body was built with just a few plates/tiles panels and it looked too tall because of the increased suspension travel. As the video demonstrates, the truck looked realistic when the suspension was pushed down – this is because the body was correctly scaled, but was sitting higher above the wheels than in the original truck. This was the inevitable result of using soft suspension with long travel. Another result were problems with stability – even though all heavy elements were placed very low in the chassis and the upper body was very light, the truck had a tendency to roll over when cornering at full speed. I was able to reduce this tendency by using harder shock absorbers in the front suspension and by decreasing the steering lock (not physically – I have simply limited it in the SBrick software), but it was still there. The truck cornered perfectly well if the speed was decreased – and this is understandable, seeing as the top speed of 12 km/h in a 19.5:1 scale model is equivalent to 234 km/h in a full-size truck.
I was pretty happy with the model because it performed very well and it was fun to drive. But at the same time it was pretty challenging to control and it made me appreciate the advantages of lower and wider vehicles that remain stable at high speeds.
Work in progress photos:
Photos:
Video:
Media coverage: