Bricksafe Thumbnail Helper tool added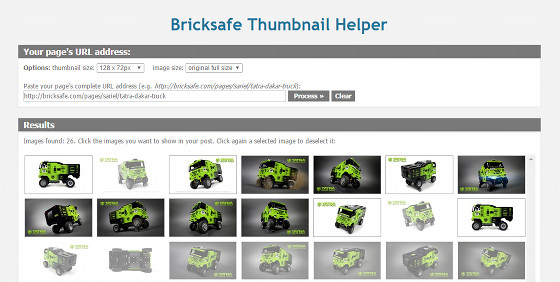 A brand new tool added – alternative to the Brickhelf Thumbnail Helper tool with more options.

As Brickshelf is experiencing yet another downtime, I've decided to use a more modern alternative for storing your photos – the Bricksafe – which has a number of advantages, including modern interface and apparently better reliability. Since there is no integrated sharing tool that would make it easy to share Bricksafe galleries across forums, I've decided to create my own, similar to the Brickshelf Thumbnail Helper tool I've created before. The tool has one simple goal: to allow sharing galleries by a few clicks rather than manually copying links. In order to do so, it scans the desired Bricksafe page, extracts photos from it, and then generates BBCode for the photos you've selected. Pasting the generated code in your forum post creates the gallery.
Thanks to advantages of the Bricksafe, this tool comes with options that were not possible for Brickshelf – there are several thumbnail and enlarged image sizes to choose from. You can use any thumbnail/image size combination and the code will be generated accordingly. You will also get a preview of how big the resulting thumbnails are, and you can select a different size option and re-generate the code at any moment. The exact procedure is as follows:
choose the desired thumbnail size and enlarged image size (most common options are selected by default)
paste the complete URL address of the Bricksafe page you want to use the photos from (e.g. http://bricksafe.com/pages/sariel/tatra-dakar-truck) and hit Process
when you see the available thumbnails, click the ones you want to share. You can also click a selected thumbnail again to deselect it.
mark and copy the code generated below the thumbnails
paste the code into your forum post where you want the photos to appear
Note that for the tool to work, the desired Bricksafe page has to be publicly available. At the moment the tool is also limited to extracting the first 100 photos from the page.
The tool is available directly at bs.sariel.pl and – along with all my other tools – at tools.sariel.pl. You can also switch between the various tools using expandable toolbar in the upper left corner of your screen.