Ford Raptor Trophy Truck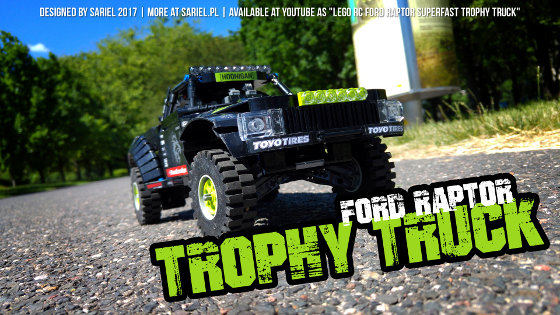 Model of a trophy truck based on Ford F-150 Raptor. Features remotely controlled drive and steering, full independent front suspension with positive Caster angle and custom stickers.
Datasheet:
Completion date: 11/06/2017
Power: electric (Power Functions)
Dimensions: length 42 studs / width 20 studs / height 18 studs
Weight: 0.997 kg
Suspension: front – double wishbone independent /rear – live axle
Propulsion: RWD, 2 x LEGO RC motor geared 1:1 from the faster output
Motors: 2 x LEGO RC motor, 1 x PF Servo
This model was built with a goal of improving on two earlier ones: my BJ Baldwin's Trophy Truck, which looked awful because of the wrong proportions, and my Tatra Dakar Truck, which looked well and was really fast, but was also too tall and unstable. Essentially, the plan was to re-use the Tatra's propulsion system (2 x Lego RC motor + 2 x SBrick + 2 x Lego 8878 battery) in a lower, more stable chassis, and to add a body looking like a proper trophy truck on top of it, keeping the whole thing as light as possible.
The truck was modeled after Ford F-150 Raptor in a trophy truck variant, but with some liberties taken. I have copied a number of details from other trophy trucks and I've created my own livery using custom stickers. In general, I was happy with how the model looked – it seemed nicely shaped and reasonably realistic – with the exception of the hood, which was too long. This was because of the huge front fenders – the only way to keep the hood shorter was to squeeze the whole front end between the left and right fender, which looked bad. I've decided that a longer hood with wide front end was a lesser evil in this case.
On the technical side, the model was ambitious for its size and its low weight. It was equipped with a double wishbone front suspension, which was – together with the PF Servo motor attached to it – tilted 10° back to achieve positive Caster angle. The front suspension was fairly soft with a travel up to 2.5 studs up and down. In fact, the front wheels could go up all the way to the front fenders, but they were stopped  about 1 mm before they could touch them. The rear suspension was a complex live axle held together by a ball joint with the two RC motors attached to it. It was connected to two long hard shock absorbers and kept stable by two 9L steering links in a V-shaped configuration. Both the shock absorbers and the steering links were set at sharp angles roughly forming a shape of letter W, but with shock absorbers overlapping the links. Such a setup was essential in keeping the rear suspension short, and it worked reasonably well, but occasionally an absorber or a link would become loose after hitting a larger obstacle. The live axle's travel was just below 2 studs up and down, and it was significantly harder than the front suspension, which was quite helpful as the model was fairly rear-heavy.
The finished model weighed less than 1 kg, which was quite impressive given its decent number of details and the fact that my Tatra Dakar Truck, sharing most of its motors and electric components, was almost 25% heavier. Its top speed was 15 KPH when measured using a GoPro 5 camera with GPS active, and it should be noted that the camera added 120 grams of extra weight. The wheels with old foam tires proved to have a surprisingly good grip, and stability was excellent – all crashes shown in the video happened either when descending a bumpy slope very fast, or when driving at top speed with camera on the roof. However, the model suffered from overly sensitive steering system with some play in it, which made it extremely difficult to drive straight ahead. I'm not sure about the reason, but seeing as my Tatra Dakar Truck with quite similar steering system handled much better, I'm inclined to guess that the play came from the steering pivot being too far from the wheel's center. They were much closer together in my Tatra model, and apparently even positive Caster angle didn't help here. Additionally, the model wasn't of much use in harder terrain due to being RWD and to very limited torque generated by its propulsion system.
Finally, the model was used to test a beta release of another SBrick app update, featuring support for gaming pads. Using a pad created higher latency than using a touchscreen, but this was to be expected in a beta release. On the bright side, the app was very easy and flexible to configure with the pad.
In the end I was hoping that this model combined reasonably good looks with decent performance in a satisfying way, so that I would have no reason to build another trophy truck in the future.
Work in progress photos:
Photos:
Video:
Media Coverage: