Peugeot 908 HDi FAP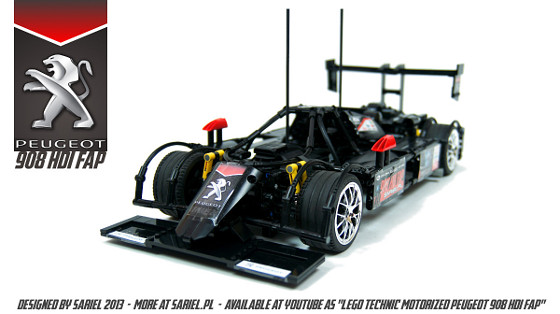 Model of a modern French Le Mans racing car. Features full suspension, high-speed propulsion system, and custom stickers.
Datasheet:
Completion date: 30/05/2013
Power: electric (RC unit)
Dimensions: length 61 studs / width 29 studs / height 18 studs (not including antennae)
Weight: 1.73 kg
Suspension: full independent
Propulsion: 4 x RC motor geared 1:1
Motors: 4 x RC motor
Top speed: 15.3 kph
The Peugeot 908 HDi FAP is a modern racing car built for 24-hours Le Mans race. Races that long require the cars to be very economic in all aspects, and that is achieved by minimizing the aerodynamic profile and lowering the center of gravity. This is why all Le Mans cars share the distinctive "rectangular pancake" look. There are many similar cars in that sport, and I have chosen this particular one because it's been the first in many years to feature a closed cockpit. While the predominant trend has been to make the cockpit open to lower the center of gravity, Peugeot's engineers have come to believe that a closed cockpit improves aerodynamic properties and the stiffness of the body so much, that it's worth making the car more top-heavy. It was not an easy thing to do because of the extremely rigorous racing regulations that include even a limit for doors size (which is why 908's doors are split in two parts that open in various directions), but it must have been worthwhile, seeing as the 908 has won 19 out of 28 races it entered between 2007 and 2010.
The model continues where my Pagani Zonda left off, trying to squeeze as much speed as possible from 4 RC motors. I was looking for a car that would let me to try a slightly different approach, and the 908's long silhouette proved perfect for housing 2 RC units, one behind the other, while its low profile guaranteed good stability. Most importantly, the model discarded Zonda's wheels in favor of the ones used in the 8070 set, which are 1 stud smaller in diameter, but 200 grams lighter in total (that is, all four of them together). Additionally, it turned out that the real 908's wheel covers are literally identical to the LEGO 58088 covers, which I had custom chromed for a better effect.
The model was built tightly around the "core" formed by two RC units and 4 RC motors, located in the middle of the rear axle so that their faster outputs were all lined up. There was space only for a direct drive, without a differential or a single gear, and since my previous experiments have proved that the lack of a differential in a high-speed RWD model can be disastrous, making it prone to spinning, I have split the rear axle in half. Thus each wheel was driven by two motors independent of the other two, which allowed the motors to react to the load on that specific wheel, which to some small degree acted similarly to a differential.
Both axles were suspended independently, with two hard short shock absorbers per each wheel. I wanted to test the LEGO 42000's set new wheel hubs in this model, but the rear hubs proved too wide and the front hubs proved too tall. The whole suspension system was fine-tuned to be hard and to have very limited travel. My previous experience has shown that at high speeds, even smallest bumps hit the suspension system quite hard. The front axle used the front RC unit's steering output for a return-to-center steering. The rear axle included four universal joints, which have been my reason to worry, as the 4 RC units could snap them easily. I was even planning to include a braking system that would use another motor to lift the rear wheels off the ground, but fortunately the combination of low weight and small wheels allowed to brake using the motors without destroying the universal joints (I've still snapped 10 or so while developing the model or drifting or accidentally driving into grass).
The body initially blended studless and studfull pieces together for an authentic look with plenty of details, but it proved so heavy that I have resorted to a purely studless body consisting of beams, panels and flexible axles. The resulting body wasn't pretty, but still "fuller" than Zonda's, which was one of my goals.
The model, which has been in development for months, has eventually turned some 250 grams lighter than Zonda while almost identical in size, and seemed to perform very promising, but its top speed was just 15.3 kph as opposed to Zonda's 15.41 kph. Given the model's roughly 1:8.6 scale, this was equivalent to 132 kph in a real vehicle, which was less than impressive. I was disappointed, since I was hoping that the combination of low weight, small (and thus requiring little torque) wheels, faster RC motors' outputs and a dead simple drivetrain would bring me close to 20 kph. Other than speed, the model's performance was fairly good, with excellent traction and stability and a very responsive steering system. However, the return-to-center steering, which I deeply dislike, proved inconvenient at making small corrections to the model's direction – the Zonda's regular steering system was much better at that. Also, the combination of a hard suspension system and small wheels with thin tires resulted in some vibrations at full speed, making the rear wing fall off every now and then. It was interesting to observe that despite its flat silhouette and wide track, the model was so sensitive to the weight distribution, that it kept going left a bit when a less than 100 grams heavy camera was attached to its left side.
In the end, the 908 was an interesting, but disappointing experience. I was sure it could drive fast or look well, but it did neither of that. Contrary to Zonda, I don't even consider it a supercar class model, since it lacked even the most basic interior. It did, however, prove excellent at drifting when fitted with solid plastic rear wheels, as shown in the video. Upon completing this model, I have decided to abandon building high-speed models. There is a whole lot of problems involved in it, including the inability to drive them anywhere but in a wide open space, the many inevitable crashes resulting in damaging and losing many pieces, not to mention the trouble it takes to find place, time, weather and camera crew for outdoors filming. I simply fail to see the point of handling all these problems again.
Work in progress photos:
Photos:
Video:
Media coverage: