The Tentacle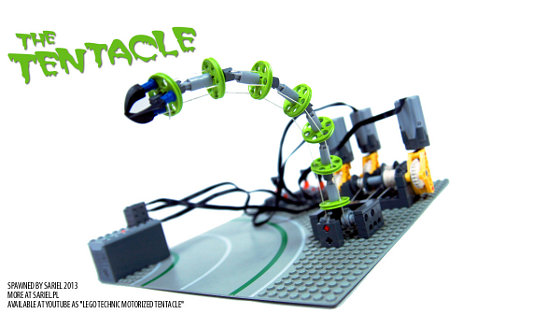 An articulated tentacle controlled with 3 motors.
I got inspired seeing some snake-like robot, and I was looking for a way to recreate snake-like movements in LEGO. This is the simplest and smallest result I was able to get. The Tentacle consisted of seven identical modules, with three separate strings going through all of them and fixed only to the top one. Each module included a ball joint, which allowed bending in any direction but to a limited angle, unlike the universal joints which would allow bending at right angles, and a wedge belt wheel which simply held the strings. At the same time, the strings were keeping the whole tentacle together and were pulled or released by three independent motors.
It is probably possible to build a much longer tentacle, but it seemed to get harder to control with increasing length. A short tentacle could be controlled manually by simply attaching the strings to some triangular piece mounted on a ball joint, and tilting it by hand. Since there are three motors required, the NXT could be used if somebody is able to create and algorithm that converts movements e.g. of a gamepad stick to the movements of three strings.
It should also be possible to build a much bigger and sturdier tentacle using the ball joints from the 8110 Unimog set, which would also allow to run a driveshaft through the middle, driving some device at tentacle's top. Running strings through these ball joints could be a little tricky, but I imagine they don't necessarily need to form a perfect isosceles triangle.
Photos:
Video: