Tiger Tank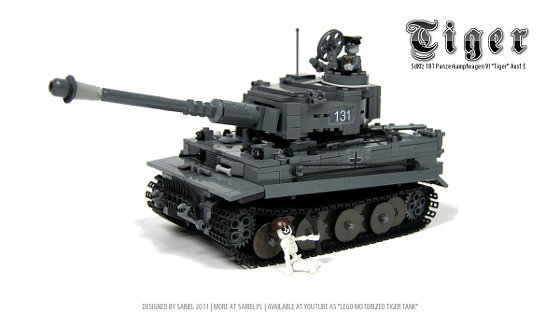 Model of the famous WW2 German heavy tank. Features drive, steering, rotated turret, elevated main cannon and lights.  
Datasheet:
Completion date: 21/12/2011
Power: electric (Power Functions)
Dimensions: length 25 studs (36 studs including main cannon's barrel) / width 14 studs / height 11 studs (not including antenna)
Weight: 0.694 kg
Suspension: none
Propulsion: 2 x PF Medium geared 1:1
Motors: 3 x PF Medium, 1 x micromotor
The Tiger tank is the probably most famous German WW2 tank, and one of the most famous tanks in history. It entered service as a heavy tank in 1942, and it was exceptionally advanced for the time, as well as deadly effective. The tank's powerful gun and thick armour made it an unprecedented threat to both Soviet and Allied tanks. There is also another side to the Tiger, which states that the tank was over-engineered, extremely expensive and time-consuming to both produce and to maintain, and its fuel consumption was monstrous, especially for the crumbling economy of the after-1942 Nazi Germany. It was also designed in accordance with a doctrine of armoured warfare that was already obsolete – it was intended to win by superior firepower and thick armour, while the Soviet tanks, much cheaper and easy to produce in large numbers, were already winning by manoeuvrability, sloped armour and by working in groups. To make things worse, the Tiger was rushed into service without proper quality control and on-site technical support, resulting in many tanks disabled by technical malfunctions or being abandoned after getting stuck because there were no means to haul them out. Still, it was an impressive and fearsome tank, even if its significance has been exaggerated by the Nazi propaganda. One could say that it was a great tank itself, but it required maintenance and logistics on a level its creators were unable to provide.
As for the model, I was initially going to build it in large scale, with tracks of the newer type, but my primary goal was  to properly model its distinctive overlapping road wheels. This element is often ignored and simplified in the models of the Tiger, and I wanted to get it right. It turned out difficult to do at large scale, but I figured out that I could simply use Technic discs at a smaller one. Since there pieces don't exist in dark bluish grey colour, I had to settle on next closest to it, that is pearl dark grey.
The model has undergone a rigorous technical control. 
After deciding on a small scale, the main challenge was to make the model fully remote controlled despite its very small size; the finished model's hull was only 20 cm long and it could fit on the palm of my hand. My secondary goal, besides that, was to properly model the shape of the air filters on the rear of the tank, which are half-round but Lego builders often make them all-round or even rectangular. I achieved this by using four 6191 bricks, which was also a challenge as they only appear in dark bluish grey in a single Lego set, one brick per set.
Eventually, the model had to house four motors, two IR receivers, a battery and approximately 2 meters of wire, plus the large Technic turntable which would provide a stable base for the turret while allowing to install a motor in it. I won't be dwelling on how hard it was, let's just say that there were times when the functionality of the model depended on whether I can move some element half stud further or not.
The model was quite simple technically. It was driven by two PF Medium motors located in the middle of the hull, which drove rear sprockets with 1:1 gearing (the only ratio possible as there was no space for any large gear wheels). There was a battery in front of the hull, and a third Medium motor next to it, which drove the turret's turntable through a worm gear. There was a single wire that entered the turret and powered a micromotor installed inside it, which drove another worm gear and thus controlled the elevation of the main gun's barrel. There was no suspension whatsoever, and the two headlights on top of the hull had Lego LEDs inside them and shutters made of the bases of Lego levers.
The look of the model was not meant to be consistent with one particular of many versions of the Tiger, I just wanted it to be characteristic, which means that it's close to the tanks from the early production batches. Its side number – 131 – was not random; the 131 Tiger tank can be found in the Bovington Museum in UK, and it's probably the world's only Tiger tank in driving condition today.
The model did not look perfectly; the hull was too tall by roughly 3/4 of a stud, and the turret had a gap beneath it to allow the worm gear to mesh with its turntable. This could be avoided if there was enough space in the hull to 'sink' the turntable inside it, but there wasn't. The turret was 9 studs wide, built around a micromotor and held together by its roof rather than by its bottom. Its look was affected by mechanical parts inside it – its front was too tall and its rear end is a little too far to the back. Finally, the main gun's barrel's dimensions had to be heavily approximated at this scale – for example, the longest section of it should be 0.75 stud thick while the thickest section should be 1.5 stud thick. There are simply no Lego pieces with such dimensions that would have the required look.
The model was fun to play with, but clearly suffered from small size and low weight. It's almost my lightest tank model ever, one third lighter than my T-72M tank and almost as light as my very simple Mark I tank – and it has more road wheels than any of those; 24 to be exact, with only 16 visible from the sides. Therefore its traction was poor and it was difficult to drive over my floor, where any unevenness (and there are many) affected its direction. I believe it would perform much better with more weight, stronger chassis and a simple suspension system, as proved by my earlier T-72 tank model, which had exactly the same tracks and propulsion system. This means that this model is probably example of the level of "miniaturization" that is already bad for its functionality.
Work in progress photos:
Photos:
Video: