2011 Roundup & 2012 Plans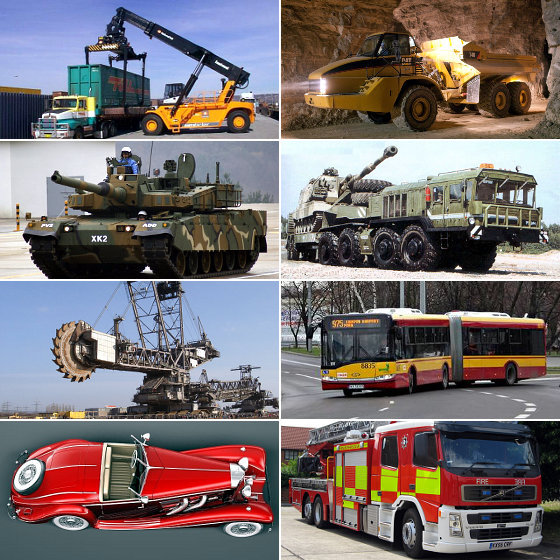 Summary of another year of building and plans for the year ahead.

2011 was a good year for building and for being a fan of LEGO in general, with many new pieces becoming available and an amazingly ambitious 8110 Unimog set being released. For me personally, it was a busy year because I've spent large part of it working on my book that will be released in 2012, and therefore I had less time for building that usual. Still, 2011 resulted in 26 MOCs, which is quite a nice number.


The 2011 started with my biggest and most complex MOC so far: the Tow Truck 2, with 17 motors and nearly 19 meters of wires on board. In February I have undergone a surgery and it took me a couple of weeks to recover, resulting in just one simple MOC until April. In April I have started exploring a completely new area of building with the LEGO Monorail system, which is somewhat closed but still brings new challenges and possibilities, different than the ones associated with typical vehicular models. Later, in May, I have created first outdoor video of my MOC for a very long time, and one that I consider very nicely edited, so I will take the liberty of showing it here.
Also in May I have ventured into yet another building area: the marine vessels built entirely out of LEGO, first with my Quadramaran, and then with a demonic Trimaran one month later. The latter was also my first opportunity of making use of the LEGO RC unit – an element I have long wanted to have and finally managed to purchase. Sending it out on a lake for start was perhaps not the safest idea, but luckily it survived 🙂
June was an interesting month even without the Trimaran – I have failed at building a hamster-powered crane (the power supply was unwilling to cooperate)  and then I failed again at building a motorized sentry turret from the Portal game – I managed to make it look the way I wanted it to look, but I had to give up on most of the functions I wanted to include in it. Which is, I hope, a lesson for the future. The turret also happened to be my 100th MOC in my adult building career, and it also marked the moment when my YouTube accout hit 5,000,000 total views.
After not doing much in July, I have set my personal record by releasing 6 MOCs  in August. Among them was a Pushback Tug that has reached my goal of towing 20 kg of load with a LEGO vehicle, and two off-road vehicles (one using the 8110 set's new suspension pieces) which failed to perform as expected, thus prompting me to finally quit participating Truck Trial races. I feel it's a change for the better, especially since I keep filming these races and I can now focus on it  entirely. It's worth mentioning than one of these two vehicles included a tiny vehicle inside it, controlled remotely through it, thus being something like a MOC inside a MOC. The rest of the year was less building-intensive with my book requiring more and more time; there were two small-scale tanks, a Monorail creation with 100 minifigures included, and my first vignette.
2011 was also a year I've become a YouTube partner. It does not change much in the way my videos are published – some of them will simply be released with some lame, royalty-free background music. I hope you can put up with this, as thanks to this I am able to get some money from YouTube, and they cover at least part of my LEGO expenses. It also seems that I'm getting more views being a YouTube partner, because I have over 7.2 millions of them now, at the end of the year, and that means 2.2 million views just since June.
At 5,999,598 total views halfway through September, the Rodent Overlord was pleased with my progress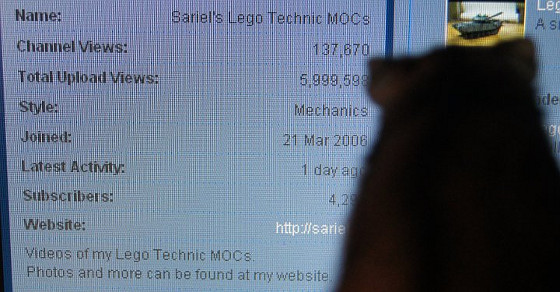 All in all, I feel happy with how this year turned out – I have built more than I expected, and I think I've reached the goal of building more diversely than the year before. One thing I'm certainly unhappy about is the fact that I haven't managed to finish a single supercar model, even though I got one mostly complete by the end of the year.
As for the 2012, some of my plans simply include building what I failed to build in 2011 – for example, the K2 Black Panther tank model and a model of the Rusich tank transporter to accompany it. I want the two of these to work together and perhaps I will manage to build them both in matching colours, which should look really well. It's possible that K2 will be my last tank, at least for a longer while, and I'm planning to put together a roundup of all my tank after its release, because I feel that tanks are particularly good at showing my progress as a builder.
Among other 2012 plans are: a reach stacker, which I've been planning to build for really, really long, and an articulated Caterpillar hauler with unique ejector system. I would also like to make another try at building a huge model of a bucket wheel excavator, something I have abandoned two years ago when my model reached 7 kilograms and its chassis couldn't support it properly. I think I'm now better prepared for such a challenge, and if I succeed, the result can be a truly impressive MOC, probably my biggest one ever.
Other "large" plans include an articulated Solaris Urbino city bus, the type I'm using to commute on a daily basis – I want to build it at large scale, which should be an interesting challenge. Just building a frame that will hold it together is challenging already. I would also like to try to work on something aesthetically pleasing by building a large model of the famous Mercedes Benz 540K Special Roadster, and finally I would like to build a large and complex fire engine based on the Volvo FH16 truck. I want to make it actually shoot water, and it should result in a good-looking and very functional model, something a little close to my aforementioned Tow Truck 2.
LEGO Technic Control Center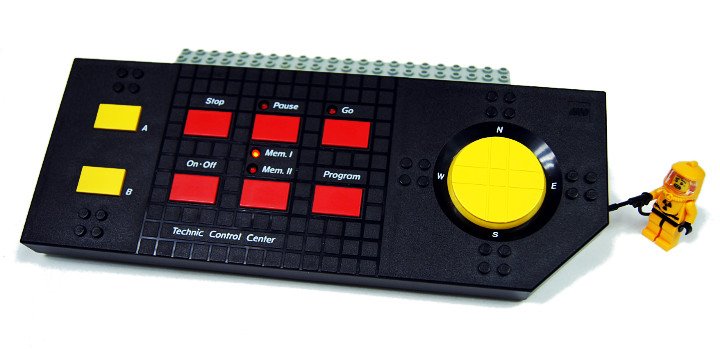 The 2012 is also the year of some new possibilities. I have recently managed to buy the LEGO Technic Control Center, which opens up a lot of options, including installing it on some large vehicle (such as the Caterpillar hauler mentioned earlier) and programming it to drive on its own. I have also acquired an EL wire, which can be interesting on the aesthetic side, and has, in fact, already inspired me to make two small and simple MOCs.
EL wire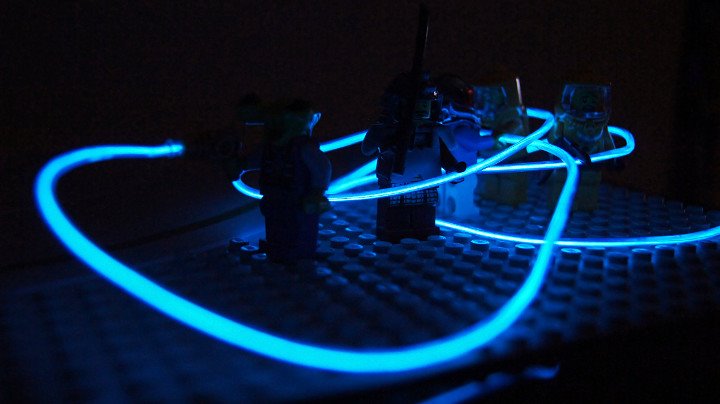 I intend to keep trying out new things and new areas; some Monorail creations are very likely to come, and I would also like to try to build an amphibious vehicle – something that was suggested many times when I started with the marine vessels. As usual, I keep a few secret projects that are bound to come out into the daylight sooner or later, and I reserve the right to build things on a spontaneous impulse.
2012 is, last but not least, the year my book hits the shelves, and I hope it will live up to your expectations. I am often unable to share my knowledge in an accessible or efficient manner – there is a lot of people who expect me to somehow transfer it by e.g. YouTube comments – so it is my personal wish that the book can help you, guide you, teach you and inspire you, thus being of more use than any comment could be.
Finally, I should mention that I have developed a secondary hobby during 2011: playing a bass guitar. It's something I enjoy no less than building with LEGO pieces, and while I'm unlikely to become skilled enough to pursue a musician's career, it will certainly be taking some of my time. Who knows, it may even become a part of some MOC someday?
The culprit – Yamaha RBX 270 J
I feel good looking back at 2011 and even better looking forward at 2012. I want to thank you for following my work through this somewhat though and busy year, and I hope that 2012 will bring you at least some of the MOCs you wish to see.
Happy New Year 2012!
Paul