LIME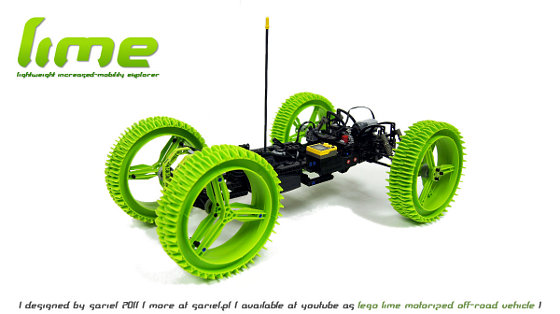 Simple vehicle created to test the RC unit and some other elements. Features suspension, 2-speed remotely controlled gearbox and on-board speed computer.  
Datasheet:
Completion date: 24/09/2011
Power: electric (RC unit)
Dimensions: length 63 studs / width 41 studs / height 20 studs (not including antenna)
Weight: 1.314 kg
Suspension: full independent
Propulsion: 2 x RC geared 1:3
Motors: 2 x RC, 1 x PF Medium
Top speed: 13.8 kmph
I've had the LEGO RC unit for a while, but only one opportunity to play with it. So, when I bought a couple of the big Exo-force wheels, I decided to use them in combination with the unit and with the RC motors' output selector that would act as a remotely controlled gearbox.
The vehicle consisted pretty much just of the RC unit with the steering attachment, two RC motors and the gearbox. The front suspension was based on the steering attachment, and the rear suspension used wishbone arms. The rear axle also included a differential for better handling, and was quite wide for improved stability. It should be noted that the vehicle was so low that it could drive upside-down with the antenna removed.
The vehicle also included on-board speed computer that measured speed just near the differential and showed it in RPMs, as it was unable to calculate the final speed for wheels of that size. I had to calculate the speed manually using the wheels' circumference. The vehicle had no body whatsoever, and it carried two camera mounts: front and rear one.
The final performance, when tested outdoors, proved disappointing in terms of speed. The vehicle was able to go barely 13.8 kmph in perfect conditions. On the other hand it handled excellently and proved quite robust; it also attracted a great deal of attention from a number of wiener dogs. My final conclusion was that the gearbox was needless, whereas the differential was crucial. Without the differential, the vehicle was prone to doing unexpected U-turns when trying to turn at high speed.
Photos:
Video: