RC motor output selector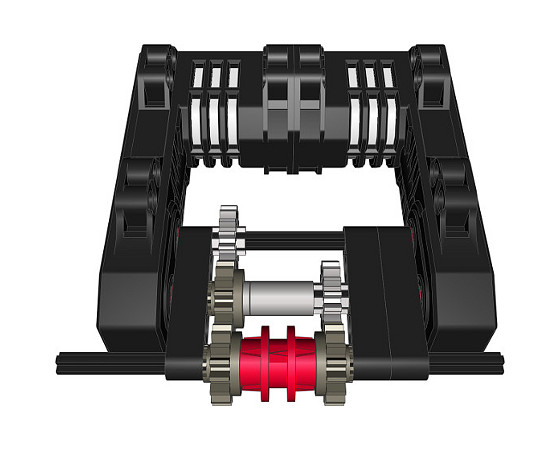 A mechanism that selects which of the RC motor's two outputs is used, and can effectively work as a gearbox.

As you're probably well aware, the RC motors are unique for having two outputs, with the inner output (the one closer to the middle) having roughly 35% more speed and less torque than the outer one. Usually when using an RC motor, one has to choose one output that seems better suited for the job. With this simple mechanism, it is possible to switch between one output and another, and since the outputs have different characteristics, it can effectively work as a gearbox.
Please note that I can't claim the authorship of the very idea, which has been around for years. I know that such a mechanism was invented long ago, but I was unable to find the original author nor any documentation, not even a single picture. I have therefore created this mechanism the way I would build it, which is probably very close or even identical to the original concept, as this mechanism is so simple that it's difficult to build it in an entirely different way.
Also note that even though I used two RC motors in the instruction, the mechanism can be used just as well with a single motor. It's just that I and many other builders tend to use the RC motors in tandems. Additionally, two 6-studs long axles has been used as the output of the entire mechanism here, but you can obviously change it as you see fit.
Finally, you can notice that the instruction, despite its general simplicity, has been created with the wonderful Lpub software by Kevin Clague. Thanks to the use of it, the instruction is very similar to the instructions from the official Lego sets, with a parts list for each individual step and with lengths of the axles and beams clearly specified. This is the standard for all my instructions I intend to provide from now on.
Photos: