Monorail Mk5: Intercity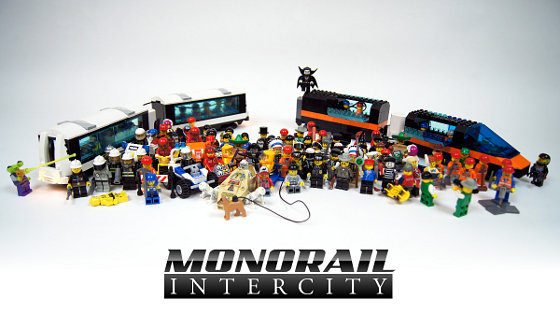 My fifth Monorail creation, features a single station with three levels, two Monorails and 100 minifigures.  
Datasheet:
Completion date: 05/10/2011
Power: 9V (Monorail) / Power Functions
This creation's goal was to have three levels of tracks on a single station, and to populate it densely with minifigures. The white Monorail was built first, and I wanted to model it after LEGO Intercity sets, but I came across a number of problems specific to Monorail. For the Monorail to be able to drive up and down the ramps and to fit inside the station, the front and rear of the cars had to be short, and the cars themselves had to be narrow and low. Initially there was sliding door on the side of each car, that would open by coming in contact with rubber axle joiners located at the platform just a moment before the Monorail came to stop. It worked well, but created more problems: the cars were too wide (with doors 1 stud thick) and for the doors to work properly, they would have to arrive and depart in the same direction on all three levels. I have eventually decided that the doors aren't worth the extra complications and removed them.
The tracks set-up could appear complex, but as demonstrated at the end of the video it was possible to make a Monorail go through all three levels back and forth without stopping. This creation was simple yet enjoyable, and it was my first creation to include some LEGO sets: namely the 7239 set as the fire truck and 7279 set as the thieves/police team with a quad.
Photos:
Video: