Oxyrinchus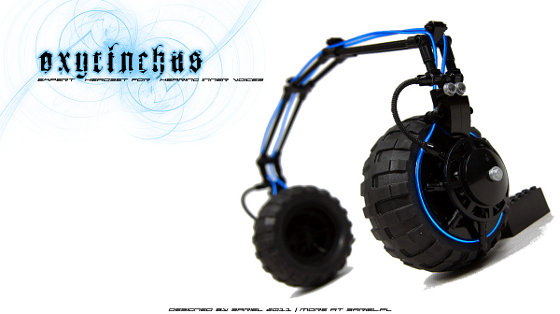 Highly experimental, very simple creation illuminated with EL wire.  
Datasheet:
Completion date: 26/10/2011
Power: 12V (external transformer)
I have a soft spot for LEGO creations with working lights in them, which is why I started to experiment with an EL wire – basically, a wire that works like a single huge LED while being elastic available in various colours and lengths (that can be cut if needed). Even being a LEGO purist, I realize there is absolutely no way to achieve even a remotely similar effect with LEGO parts – hence the experiment.
I wanted to try integrating the wire into something, just to test how elastic is it, how far can it be shaped and how well does it "sit" with LEGO pieces. Being a fan of Razer gaming products, I caught a sudden inspiration to build a 1:1 model of a fictional Razer-inspired headset. Hence the name, because Razer names its products after animals, the headsets are named after aquatic ones, primarily sharks, so Oxyrinchus is a Latin name of one of the sharks species.
The creation was extremely simple, to the point of being crude, but it allowed me to test both the wire and my camera while taking photos of a MOC illuminated this way against a black backdrop. It was therefore an opportunity to get some valuable experience, but it had absolutely no functions beyond that – hence the "expert headset for hearing inner voices" caption 🙂
Photos: