Diablo Sorceress Vignette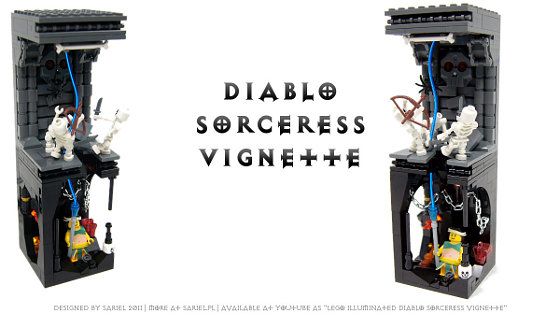 Experimental static vignette illuminated with LEGO LEDs and an EL wire.  
Datasheet:
Completion date: 29/10/2011
Power: 12V (external transformer)
A vignette is a static scene that fits in 8×8 studs area and is usually populated by minifigs. As a Technic builder, I have never built one before, until having a blue EL wire at hand resulted in a sudden and unexpected idea.
The vignette used two levels of dungeons to depict a sorceress from the Diablo game making her way upwards using a lightning bold spell. The EL wire, which simulated the bolt, had been completed by four LEGO LEDs that illuminated lava leaks and a torch on the vignette's lower level. The upper level was populated by four incomplete skeletons (there was only a leg left of one of them), armed with weapons just like in the game. There two levels of dungeons also included some tenants: a spider on the upper lever and a somewhat concealed bat on the lower one. The two levers were connected by shattered floor and maintained different colour themes. I have also taken a liberty of taking the Diablo 3's tagline: "And the Heavens shall tremble" and changing it a little:
This was a very simple creation that allowed me to try some light effects. It was nevertheless fun to build and my hamster fitted well in it 🙂
Photos:
Video: