Instruction for Land Rover's chassis available for download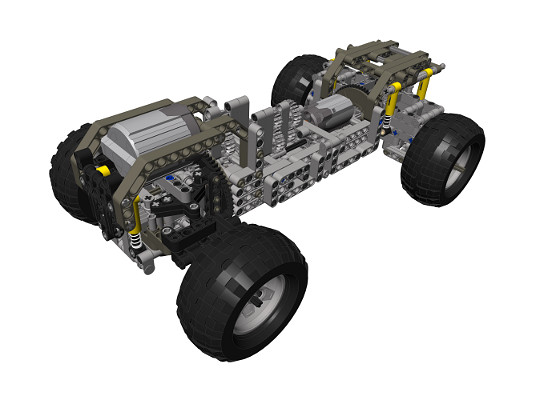 A complete, step-by-step instruction for the chassis of my 2010 Land Rover model is available for you in the Downloads section.

My last vehicle built for the 2010 Truck Trial season was a relatively simple model of the Land Rover series 2. It has participated in two races, with no luck, but it proved to be mechanically flawless, just suffering from poor power-to-weight ratio. It had a fairly heavy bodywork, and was driven by a single XL motor geared down 5:1 – which turned out to be insufficient. Still, the model's chassis was technically more advanced and superior to the chassis of my earlier Jeep Wrangler Rubicon, instruction for which has gathered much acclaim. For example, it was completely studless and thus generally lighter and more compact, and it used turntables to attach the axles to the chassis, which prevented model's weight from putting load on the driveshaft.
When the 2010 competition ended, I made a promise to create & publish the instruction for the chassis. I did not want to create instruction for the complete model, including the bodywork, for three reasons: because it would be much longer and more complex, because the body proved too heavy for a single XL motor geared 5:1, and finally because I prefer to provide others with a technically sound foundation for their own models with their own bodyworks, rather than with a complete instruction that leaves little or no place for one's own creativity. It took a while, but finally the instruction is available in the Downloads section.
Just like in Jeep's case, there are two versions of the instruction available for download: a lightweight one in a PDF file, and a high quality one in form of high-resolution PNG images. Both include a complete parts list and a blueprint I was using to build the original model. Please note that unlike the Jeep's instruction, this one concerns a construction that will be most likely completely hidden under the bodywork of your choice, so the colours I have used in it should be considered clearly optional. I was, of course, using default Lego colours whenever possible, e.g. to show the difference between pins with friction and pins without friction. It is also important that the original model used yellow shock absorbers, which are the hardest. If you choose to use softer shock absorbers instead, the stability of the chassis may deteriorate, especially under a heavy body.
Finally, please keep in mind that this is an extremely robust design, created with extreme outdoor racing in mind, and thus it may include more reinforcements than you actually need. Additionally, this is a relatively advanced chassis for a simple 4×4 vehicle – if you find it more complex or more parts-expensive than you need, consider the Jeep's chassis as a simpler alternative.
Proceed to Downloads section »
Video of the original model: