2-speed Heavy Duty Linear Gearbox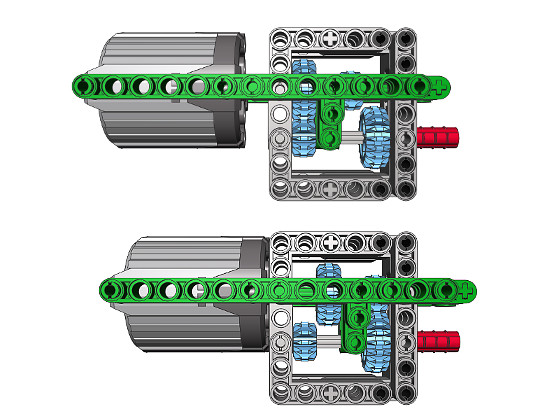 Compact, simple gearbox designed for use in Truck Trial races and high-torque applications. Step-by-step instruction and a two drive motors variant included.
Last year, the continuous development of the Truck Trial vehicles in our country resulted in the common use of gearboxes. Since the power-to-weight ratio of each vehicle decides how much points it gets, it is favourable to reduce this power to minimum. This is where gearboxes come in handy – they allow to use less motors, or less powerful motors, increasing gear reduction when needed, and decreasing it when less torque is needed. Without the gearboxes, all vehicles would have to use a gear reduction high enough to climb obstacles, which results in reduced speed and in a waste of time when e.g. driving downhill.
The loads exerted on vehicles' drivetrains in our races are so high that it's very difficult to use a gearbox with driving rings. In most cases, it results either in the driving rings disengaging under load, or in mechanical damage to them. Therefore it's a common practice to use simple linear gearboxes, with as few gears as possible, as most vehicles can do very well with just a 2-speed gearbox. The need for reducing amount of gears to minimum resulted in integrating the drive motors into the moving parts of the gearboxes, so that the motors slide as the gears are changed. The idea, introduced by Emilus in his Truck Trial models, eliminates the need for complex transmission mechanisms between sliding driveshaft and stationary motor, and has practically no disadvantages, except for slight shifts of the vehicles' centre of gravity caused by motors' weight.
The following gearbox has been developed from a version used in my Fiat SPA35 Dovunque model. The Fiat's gearbox has failed during the race, but it has given me the opportunity to observe exactly what are the causes of its malfunction. Based on this experience, the new gearbox has been reinforced in all the crucial spots and is practically immune to mechanical damage, while still being relatively compact and simple.
I have provided schemes, views from various angles and a full instruction for the gearbox, as well as a scheme and views of a version using two drive motors instead one.  Note that the sliding mechanism has not been included, because my experiences with Fiat have shown that it's best to make it part of the chassis close to the gearbox, that part of the gearbox itself. Still, building such a mechanism should be fairly simple, as all it has to do is to slide the central bracing a single stud back and forth, and keep it in place. The mini linear actuators are one of the many options that can be considered here.
Photos: