Prowler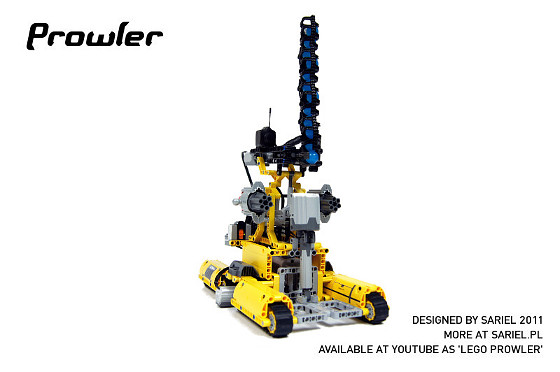 Simple vehicle built for fun. Features 4 driven rubber tracks, chassis elevation system and remote-controlled Zamor cannon.  
Datasheet:
Completion date: 24/02/2011
Power: electric (Power Functions)
Dimensions: length 36 studs / width 23 studs / height 50 studs
Weight: 1.14 kg
Suspension: none
Propulsion: 2 x PF Medium motor geared 1:1
Top speed: 1.60 kmph
Motors: 4 x PF Medium, 2 x PF XL
The idea for this vehicle has evolved quite a bit. Initially meant to be a successor of my Moon Rover, since I am deeply fascinated by all the robotic contraptions NASA sends into space, it has gradually became something built rather for fun than for pretending my room's floor is another planet. It was also important to me to build it without having to take apart my previous construction, which meant that I could use 3 IR receivers and 6 motors at best.
The Prowler has become an opportunity to experiment with a HD video. Having finally a full-HD-capable camera at hand, I was eager to try producing some high quality panoramic video. I have chosen to use Ulead Video Studio to do so, a decision which I severely regretted later, and I started by trying to produce a full HD video, which turned out to require a machine much more powerful than my PC. Having decided on regular HD instead, I proceeded to work on the video, which became increasingly frustrating, as the Ulead software turned out to work really slow.
It seems that the frustration over the video, which I felt compelled to finish against all odds, has affected the work on the model itself. For instance, the two Medium motors geared 1:1 proved incapable of driving over any serious obstacle, and I didn't want to modify the drivetrain, because it would mean reworking the whole chassis. The live feed camera, which worked flawlessly the day before I started filming, proved unwilling to co-operate with my PC when I needed it to. I've tried for a couple of times, but I was unable to get a signal from it, which is why there is no single image from this camera in this video – I just didn't manage to film it when it worked. Finally, the Zamor launchers proved quite difficult to control remotely. I wanted to have two of them, launched one after another continuously by a single motor with an eccentric mechanism. For some reason – perhaps because my Zamor launchers were brand new – it turned out to require an enormous amount of torque, rendering the eccentric mechanism completely useless, as it would yield to the launcher's resistance regardless of how much reinforced it was. I have tried a couple of solutions, and eventually settled down on a single launcher with a primitive control system consisting of a single motorized linear actuator. It meant that the launcher control system could not work continuously, but required switching back and forth. In the end, the Zamor launcher proved largely inaccurate anyway. Since the spheres would not always sit in the launcher in exactly the same position, there was a significant spread when firing them. It was acceptable for just having fun and shooting large targets, but it still took me over an hour to get the short at the beginning of the video right.
I would say that it's a clearly unimportant construction, perhaps something I needed to relax after a long and tedious work on the previous one.  Still, I have learned something from building it, which means that it was worth building anyway.
Photos:
Video: