Mercedes-Benz SSKL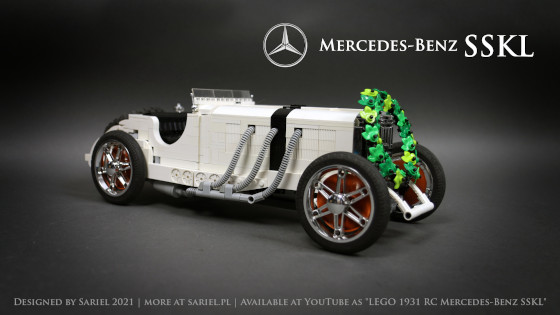 Model of a vintage racer from 1931. Features RWD drive, working steering wheel and suspension.
Datasheet:
Completion date: 25/02/2021
Power: electric (BuWizz 2.0)
Remote control: BuWizz 2.0
Dimensions: length 45 studs / width 20 studs / height 16 studs
Weight: 1.143 kg
Suspension: front – double wishbone independent with torsion bars, rear – live axle
Propulsion: 2 x RC buggy motor
Motors: 2 x RC buggy motor, 1 x PR Servo
I have a soft spot for vintage racers, and by "vintage" I primarily mean from either 60's (the era of Ford/Ferrari rivalry and Porsche's first steps on the scene) or 20/30's (mostly revolving about Mercedes-Benz, who employed Ferdinand Porsche at that time, competing against Alfa Romeo, who employed Enzo Ferrari at that time). There is also a fascinating 50's era, featuring the famous German "silver arrows" and legendary sir Stirling Moss destroying Mille Miglia, but one can only have so many favorite racing eras.
Before the Germans became famous for their silver arrows, the German racing cars were traditionally all-white and dubbed "white elephants". This moniker might have originated from two facts: Mercedes' early experiments with superchargers, which, preceding the use of mufflers, made their racers somewhat loud, and the fact that the Germans were fond of installing their supercharged engines in massive roadsters running well over 4 meters long (quite a length for a two-seater) and weighing up to 2 tonnes. These enormous machines did very well in a straight line, but proved somewhat difficult to put through a corner, which is why their evolution involved shedding length and weight while making the engines even more powerful. The final stage of the "white elephants" development was the SSKL model – a special variant of the Mercedes-Benz SSK roadster (the L was added for 'Leicht' meaning light) with stripped-down body and souped-up engine.
The distinctive features of the SSKL model included a single black strip on the hood, lack of fenders and headlights, as well as round holes in the stringers, cut to lower their weight. The details are a little hazy, however, because the Mercedes brand itself isn't sure how many SSKL's were there (they officially say it's "probably four"), the SSKL was initially simply called "SSK, Model 1931" and when searching online for photos of the true SSKL, one has to dig through abundance of SSL cars in various configurations.
The proper SSKL version looked most probably like that:
Regardless of what it was called, the proper SSKL had its weight reduced to roughly 1,350 kg while its engine produced 300 HP, resulting in the top speed of 235 km/h – and all of it in a car without traction control, multilink suspension or seat belts. People in the 30's must have lacked any sort of self-preservation instinct, as one of the feats pulled off with SSKL was winning a Berlin race with average speed of 194.4 km/h. Again, this is average speed across the entire race. For a comparison, if we take the current fastest lap on the Top Gear track (Ferrari SF90 Stradale, 1:11.03), the average speed is less than 143 km/h (but then the Top Gear track is much shorted that the Berlin race).
So much for the history. The model itself was fairly simple, built with the goal of looking good, driving reasonably well, and being different from my previous similar roadster, the Mercedes-Benz 540K Special Roadster. Which is why I have started building it with studless pieces only, but I found too many pin holes and too few details, so I went with a roughly 50/50 hybrid build instead. The model was propelled by two LEGO RC buggy motors powered from BuWizz 2.0, driving the rear axle with 2.33:1 ratio from their faster output. The steering was controlled by a PF Servo with a steering wheel connected. It was rather challenging to fit all this stuff in a relatively small model, so I had to abandon any hopes for a transmission or a model of the engine. In fact, the motors stick out from under the body, which is ironically historically accurate, as many roadsters of that time had bodies that only partially covered their engines in order to preserve aesthetically-pleasing body proportions (Alfie Romeo 8C 2300 is one famous example here).
The suspension was a challenge, since I couldn't come up with a leaf spring design that would look and work right. Instead, I have ended up using double wishbone independent front suspension, but with longitudinal torsion bars made of axles instead of shock absorbers, and I've managed to squeeze in a live axle in the rear. The modest size of the model resulted in some compromises, such as exposed frame in front of the seats and a somewhat ugly top of the hood – I wanted to build it with SNOT but it sits right on top of the motors and the BuWizz and SNOT would be too thick.
The wheels were another story. LEGO doesn't make any large spoke wheels and there are only few LEGO motorcycle wheels with the right proportions and only one of them comes in black, but I found tires for this wheel to have tread that looked way too modern to me. So instead I went with vintage 61.6 mm wheels and unique tires that LEGO has only used in the 8422 Circuit Shock Racer set because to me these are one of the very few LEGO tires with a realistically-looking tread. The wheels don't come in black, so I've decided to have them custom chromed in silver to match other parts of the model. So while the wheels don't look accurate, without any way to make them look like proper spoke wheel I had no chance for accuracy here anyway.
The model's top speed was 8 km/h, a somewhat annoying result because it was just too fast for driving indoors but didn't seem all that speedy outdoors. The steering system was somewhat overly sensitive and the front suspension proved to be fairly hard – it worked considerably better with less weight on it. So in the end the model wasn't anything special or groundbreaking, but it was a pleasant build that gave me some fun.
Work in progress photos:
Photos:
Video:
Media coverage: