Dodge Charger Bigfoot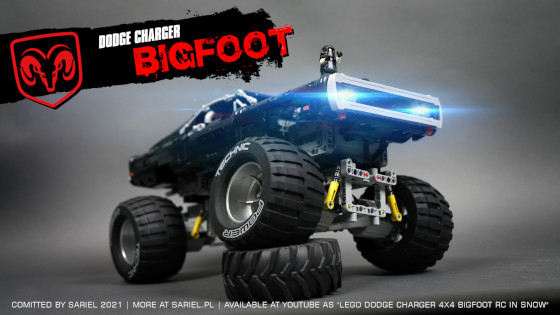 Simple snow-going vehicle consisting of a 42111 set's body on a custom chassis. Features 4×4 drive, skid steering and a swing-arm suspension.
Datasheet:
Completion date: 11/02/2021
Power: electric (Power Functions)
Remote control: SBricks
Dimensions: length 49 studs / width 33 studs / height 27 studs
Weight: 2.03 kg
Suspension: swing-arm suspension with motors acting as arms
Propulsion: 4 x PF XL motor
Motors: 4 x PF XL motor
Two years ago we had a nice, snowy winter and I've built a simple, fast Sherp ATV model to have fun in snow. This year we had even more snow and I wanted to have some fun again, but with less time to build available (cough, parenting, cough) I had to settle for a dead simple, crude vehicle. What I did was build a simple chassis with 4 PF XL motors acting as swing-arms and inserted directly into 4 LEGO Power Puller wheels, then put the 42111 set's body on top of it. There was no actual steering system – skid steering was used instead, which I thought a reasonable choice as the model had plenty of torque and was intended for snow. The motors were connected in pairs to two SBricks, which in turn were powered from two PF battery boxes housing Ni-Zn batteries, which provided no less than 10.5V.
The resulting vehicle wasn't quite as fast as my Sherp ATV but it had sharp acceleration, plenty of power and highly responsive suspension which also provided a very nice, realistic body roll when starting and stopping. The skid steering proved effective, if a little difficult to control precisely on uneven surfaces. The tires did reasonably well in snow, and while I believe they didn't provide as much grip as the tractor tires used in my Sherp ATV, they seemed to increase the suspension's effectiveness with their balloon shape and cushioning effect. All in all, the vehicle was fast, agile, powerful enough to tow a chair with some load around a room, and it could wade through snow axle-deep until the point where the chassis' bottom was stuck on something and all wheels lost traction. The Ni-Zn batteries proved their worth in the cold, too, as I have spent no less than an hour driving the model outdoors at approximately -12°C and haven't noticed any drops in performance.
Photos:
Video: