Mini Monster Truck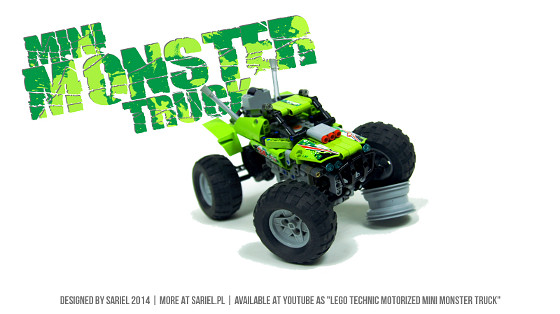 Simple model built for testing RC motors with low-weight vehicle. Features RWD and full suspension.
Datasheet:
Completion date: 10/04/2014
Power: electric (Power Functions)
Dimensions: length 31 studs / width 21 studs / height 24 studs
Weight: 0.565 kg
Suspension: front – independent / read – dragged axle
Propulsion: 1 x RC motor geared 1:1
Motors: 1 x RC motor, 1 x PF Servo
Top speed: 11.6 kmph
The idea behind this model was extremely simple: to take my Trophy Truck, remove one motor and cut the weight by as much as possible. The resulting vehicle had better power-to-weight ratio, which is crucial for the LEGO RC motors, as they are known to perform best with low loads. To lower the weight, however, I was forced to give up the RC unit in favor of the Power Functions system. Thus the RC motor was powered by the 8878 PF battery via V2 PF IR receiver, which provides lower voltage than the RC unit does. Eventually, the model ended up being slightly slower, but it had fantastic acceleration and was very playable. Technically, it basically identical to the Trophy Truck, with direct RWD, no differential and independent front suspension with return-to-center steering. It used exactly the same wheels, and it was softly suspended, although the front suspension's travel was shorter than with the Trophy Truck.
As for the body of the model, I wanted it to be lime, lightweight and robust, and it ended looking up like a souped up version of the LEGO 42027 set. The body was capable of surviving a turnover without any damage, and ensured easy access to the battery. I was somewhat concerned about the Servo motor being exposed from below, but it stayed safe even when driving through pools outdoors. While rather difficult to control, the model proved to be exceptionally safe and tough – it could drive straight through a pool without any electric elements getting wet, and any collisions were alleviated by the soft balloon tires acting like bumpers.
Photos:
Video: