Catamaran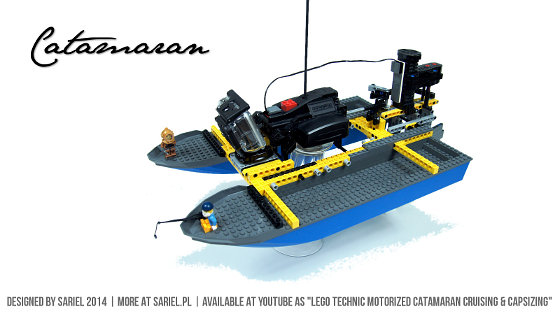 Fast, camera-equipped boat with unique propeller. Features my first rudder control system.
Datasheet:
Completion date: 13/03/2014
Power: electric (RC unit)
Dimensions: length 64 studs / width 34 studs / height 41 studs (including propeller)
Weight: 1.456 kg
Displacement: 1.8 kg
Suspension: none
Propulsion: 2 x RC motor geared 1:1
Motors: 2 x RC motor
The main problem that arises when one tries to build a relatively fast LEGO boat is the propeller. Most existing LEGO propellers are either very small, or have profile that is completely unsuited for water. However, back in 1988 LEGO has released the 8855 Prop Plane set, including a very unique propeller, which was large and had a very good aerodynamic profile, and which was never used in any other set again. Once I've finally came across one such propeller, I decided to try to use it with a boat.
First tests have shown that the propeller is indeed quite effective, but it also has asymmetrical blade profile, meaning that it's more effective facing forward (like in a typical plane) than facing backward (like in a typical boat). This called for an unusual design, with the propeller turned the opposite way to how it's usually oriented. I decided that for stability and good exposition of the forward-facing propeller a double-hull design in form of a catamaran is optimal, and I have used two 51×12 hulls as a base for the boat.
The orientation of the propeller, which was fully exposed between the two hulls, called for some kind of protection from collisions and minor objects in water, so I have installed it inside a large, central fin mounted at the back of the boat, between the hulls. On top of the fin there were both propulsion motors, and its back served as a base for a huge rudder made of beams, which was connected to the RC unit's steering output. This provided a powerful propulsion system and an accurate return-to-center steering with just two motors and the unit.
The boat provided reasonably stable during testing. I had to move the RC unit forward though, because the sterns, which were lower than the bows, had a tendency to take on some water when accelerating. This resulted in a very limited space on the bow, which blocked my plan on mounting the GoPro camera on a turntable rotated remotely with an additional motor. I have ended up with the camera fixed in a forward position.
The Catamaran performed very well out on a lake, with great stability, very accurate steering and impressive acceleration – the top speed was lower than I hoped for, though. It worked so flawlessly, that I dared to depart around 10 meters away from the shore, and the RC unit was still in range. Problems appeared only when I moved the GoPro to the stern, installing it on a side, which made the boat list to that side. I thought the listing was acceptable, but I was proved wrong when after a short cruise the boat slowly capsized. Luckily, it remained afloat and the water was fairly shallow in that spot, allowing me to wade into the lake and pull the boat out manually.
It was a nice model to play with, but I had some concerns about the large propeller and the central fin, which reached deep into water. There was a large chance of colliding with some underwater objects and getting stuck. Which is why my next vessel will probably be an airboat.
Photos:
Video: