LEGO Wheels Diameters & Weights Chart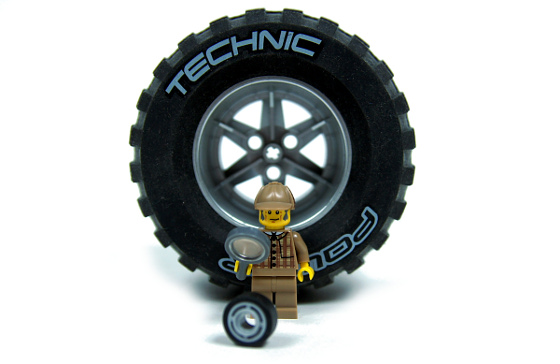 A new tool is available: chart with sizes and weights of some of the most popular LEGO wheels.

Available at wheels.sariel.pl, the sizes & weights chart is intended to help you when choosing your wheels. I often find myself wondering which wheels are best suited at a given scale, and I'm not anywhere near my workbench to check the size, and when building high-performance models I sometimes try to find out if there is a lighter wheel of the same size. This chart is supposed to help with questions like that. It includes all the types of wheels I own, so some are missing, sorry.
The wheels are ordered from smallest to biggest ones, and if their sizes are identical, then from lightest to heaviest ones. The images of the wheels work as links for Bricklink catalog, to help you find the wheels easily. All sizes and weights were carefully measured by me, and I'm surprised to see they are sometimes quite different from the Bricklink catalog's data. While I was trying to do my best to get most accurate data possible, I can't guarantee it's absolutely correct. Several wheels of the same type can vary, they may have been produced at different times, in different batches, by different machines. Still, I hope this tool is helpful to you, and I will be trying to update it as I get more wheels.